Archana Todmal
Last updated 24/08/2023
---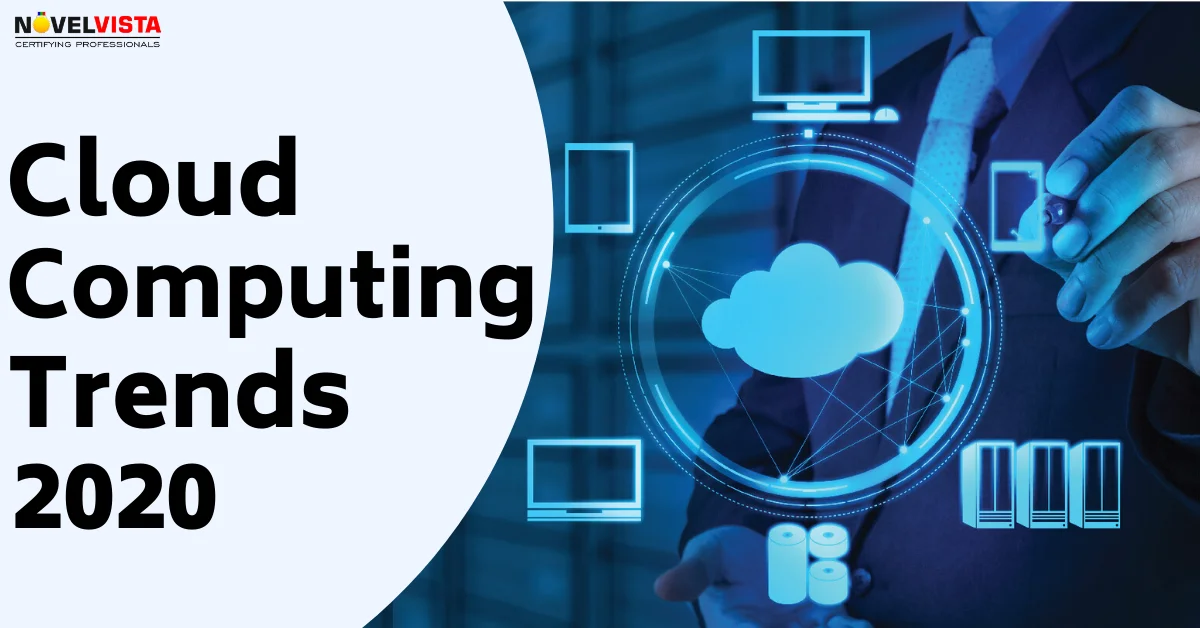 So we started the New year on a good note and the 1st month 2020 is also almost over.
Wait! When we talked about starting it on a good note, didn't that make you wonder what does it actually mean? Are all the technology predictions of 2020 are going to become true this year? And that's why it is a good start?
Well, let's start discussing it with cloud computing trends first. So the cloud computing predictions that came out last year, spoke about AI and Machine Learning with cloud computing, public cloud storage, private and hybrid cloud, mobile cloud computing, open-source cloud-native development platform. But how far did we get with all of these?
In this blog, we are going to talk about how cloud-based systems will be getting finely shaped with the cloud computing trends in 2020. Make sure you understand all about cloud computing to make them work.
By seeing 2020 predictions, you must have loads of questions in your mind. How can AI and Machine leaning work together? What is public cloud storage? What all can you do with the help of mobile cloud computing?
Well, hopefully following 4 cloud computing trends will answer your queries right away!
Cloud Computing Trends in 2020:
1. AI and Machine Learning with Cloud Computing:
You know how artificial intelligence and machine learning are the main areas of focus right now in organizations. Professionals can generate machine learning models by using a large set of data applied to a certain algorithm. It becomes important to leverage the cloud for this. When AI comes into the picture, even without a machine learning model too it is possible to enjoy services like text analytics, speech, vision, machine language translation with cloud computing taking care of the fact that everything falls into the perfect place.
Leveraging AI and Machine Learning with Cloud Computing is cost-effective and reliable. It increases productivity as well.
A recent survey states that 67% of IT professionals believe that AI and ML will be the influencers of cloud adoption in 2020
2. High-Performance Computing In Public Cloud Storage:
Public Cloud Storage is a model that enables you to store, manage and edit the data. To perform calculations and process these data at high speed is what we call High-Performance Computing in the world of the cloud. But as smooth it sounds, High-performance computing is pretty expensive due to the high ended resources, requirements and high demand. This is why organizations have been reluctant about using it in previous years.
In 2020, 40% of the enterprises have decided already to run the HPC workload in their public cloud. Whereas, in 2016, only 26% of them were aware of its actual benefits.This rise is encouraged by new types of public cloud instances such as Azure H-/NC-/ND-/NV-series, AWS C5/P2/P3/G3 instances, and Google V100/P100/K80. In the coming year, we will also see a rising number of HPC focused solution providers.
3. Private and Hybrid Cloud:
You know about the Private and Hybrid cloud. Right?
The service and infrastructure of a private cloud are maintained in a private network by the providing company or a third-party service provider.
Hybrid cloud, on the other hand, is the fusion of public cloud and private cloud. In the hybrid cloud concept, both the platforms share the integration of personalized data and applications.
It is believed that the concept of a hybrid cloud can bring collective business of $1.3 trillion easily. That's why 80% of business leaders are looking forward to the concept of hybrid cloud as a future.
In 2020, enterprises will find themselves using the concept of private and hybrid cloud more. In fact, hybrid and private cloud solutions might come in the form of different service providers for storage, computing and data analysis.
4. Mobile cloud computing:
Mobile Cloud Computing is the combination of cloud computing and mobile computing to bring rich computational resources to mobile users, network operators and cloud computing providers. Mobile Cloud Computing is basically used to enable the execution of rich mobile applications on a plethora of mobile devices, with rich user experience. Mobile Cloud Computing provides business opportunities for mobile network operators as well as cloud providers.
According to a survey of Verto Analytics, mobile cloud computing touched a value of 30.71 billion USD and is expected to reach 118.70 billion by the end of 2025. Isn't that pretty obvious that we will have a good look at Mobile Cloud Computing's face in 2020 as well?
Overview:
So, here you got some new information about 2020 cloud trends, along with updates on the old ones. Do you think we have missed out on something? Let us know in the comment section then!
Excited to apply these all for your cloud-based system too? Well, you need to learn about cloud computing thoroughly first and make yourself prepared. And we are sure you are up for that too! If you need help with that, here are some Cloud Computing courses you can opt for! Check them out till we get back to you next, and decide which one is suitable for you. Until then, stay upskilled!
Topic Related Post
About Author
If you are looking forward to reading some high ended cloud computing blogs, hers are the ones you should look up to. With an experience of over 20 years in cloud computing, she is well aware of the features of AWS, Microsoft Azure, and Google cloud which gets reflected in her writings. Her articles are the mouthpiece of the cloud world that speaks to us regarding the cloud trends as well as the real-life scenarios of a cloud environment. Her experience in cloud consulting and implementation plays a huge role in her write-ups and the professionals end up getting just the solution they need.