Archana Todmal
Last updated 21/07/2021
---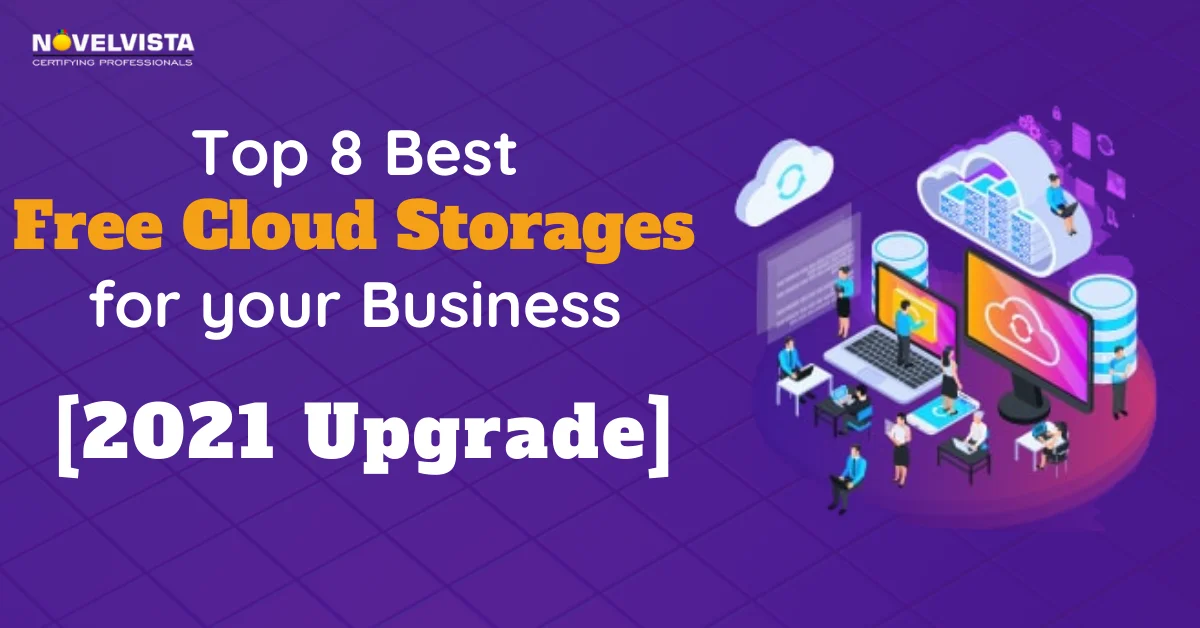 How much data do you need to store in your office desktop on a regular basis?
You can't even recall. Can you? It's that much.
And because of storing too much data in your PC, it functions slow and looks messy as well. Isn't it?
Well, we have 2 words as a solution to this situation- Cloud Storage!
You might ask, "How would I know if cloud storage really is the best solution?
Well, we can answer your question with one simple survey of Spiceworks. According to this survey conducted by Spiceworks, 93% of organizations around the world are using cloud-based IT services. And among the most commonly used cloud computing services, web hosting leads at 76 percent, followed by email hosting at 56 percent, and cloud storage and file-sharing at 53 percent.
Convinced? Now, let us tell you what cloud storage actually is.
What Is Cloud Storage?
Cloud storage is a model of computer data storage in which the digital data is stored in logical pools. The physical storage spans multiple servers (sometimes in multiple locations), and the physical environment is typically owned and managed by a hosting company. These cloud storage providers are responsible for keeping the data available and accessible, and the physical environment protected and running. People and organizations buy or lease storage capacity from the providers to store user, organization, or application data.
So why exactly using cloud storage is far better than any other storage? This is why:
While using cloud storage, companies need to pay only for the storage they actually use, which is typically an average of consumption during a month.

Businesses using cloud storage can cut their energy consumption by up to 70% by making them a more organic business.

Organizations can choose between off-premises and on-premises cloud storage options, or a mixture of the two options, depending on relevant decision criteria that is complementary to initial direct cost savings potential.

Storage availability and data protection are intrinsic to object storage architecture. Hence, depending on the application, additional technology, effort, and cost availability and protection can be eliminated.

Storage maintenance tasks like purchasing additional storage capacity, are offloaded to the responsibility of a service provider.

Cloud storage provides users with immediate access to a broad range of resources and applications hosted in the infrastructure of another organization via a web service interface.

Cloud storage can be used for copying virtual machine images from the cloud to on-premises locations to the cloud image library.

Cloud storage can be used as a natural disaster proof backup, as normally there are 2 or 3 different backup servers located in different places around the globe.

Cloud storage can be mapped as a local drive with the WebDAV protocol. It can function as a central file server for organizations with multiple office locations.
Which Free Cloud Storages are available in the market?
Now the question is, which cloud storage your organization should use? Considering the fact that cloud storage can cost a lot if you are working with SMBs your organization might not be ready to such a huge amount. Hence, we have listed 8 cloud storage here that are absolutely free to use. Have a look once!
1. Google Drive:
We all know about Google Drive. Don't we? Most of the people across the globe are using it for both professional and organizational purposes. Google Drive was launched by Google in 2012 and has been helping users to store files on their servers, synchronize files across devices, and share files. Google free cloud storage provides a space of 15 GB to users.
Key Features:
Lets user store a personal file in a personal way

User friendly

Google Drive offline services help its users to view all the files and photos that are saved online

It helps you to scan documents.
2. Media Fire:
This one too has been around for a while and has been adored a lot. Media Fire is probably the best free cloud storage to store documents and photos online. It provides an initial storage space of 10 GB but that's expandible till 50 GB and most importantly, is easy to use.
Key Features:
With the help of Media Fire, you can upload multiple files in one go from any browser.

You can organize the files with the help of the file manager.

It helps the user in

sending documents with a specialized and free one time link which enables the recipients to share it further.
3. Sync.Com:
Sync.com is another free cloud service that helps users to access and share their files from virtually any computer, phone, or mobile device without giving up their right to privacy. Once a user has created an account and installed the app, files and folders added to Sync get backed up to the cloud and instantly synced to all their connected devices. Users can also share their files and folders, making Sync perfect for collaborating with teams or sharing files with clients and customers. It provides free storage of about 5 GB
Key Features:
Sync.Com makes the backup process easy.

You can restore the deleted file with the help of Sync.com.

It helps you

to save files and documents in a special storage space known as Vault which is different from the Sync folder
4. Mega:
Launched in 2013, Mega has become quite popular over the years. Mega is mostly known for its 50 GB storage capacity. The service of Mega is offered primarily through web-based apps. Mega mobile apps are also available for Windows Phone, Android, and iOS.
Key Features:
Mega cloud storage helps users to download multiple files in the zip file

Uploading file is also possible with the mobile app

It has many security features that help in data protection

It provides an excellent backup file option.
5. Dropbox:
Compared to the previous ones, Dropbox is pretty powerful because of its backup features. Dropbox has been praised, receiving the Crunchie Award in 2010 for Best Internet Application, and Macworld's 2009 Editor's Choice Award for Software. It has been ranked as one of the most valuable startups in the US and the world, with a valuation of over US$10 billion, and it has been described as one of Y Combinator's most successful investments to date.
Key Features:
Be it

small and large PowerPoint presentations, photos, videos, or maybe even other large CAD files- anything can be safely kept in the Dropbox.

Dropbox provides you with easy sync features to access the files and documents to the Dropbox from any device.

If your device is lost, you can protect all the files and information saved in your cloud storage with the remote wipe feature.
6. pCloud:
When it comes to cloud storage space, pCloud really stands out the crowd since it provides free cloud storage of 2 TB. Can you imagine that? Along with that, pCloud helps you to share files with your teammates anytime you want as well.
Key Features:
You can resize the saved picture without any help of an outsourced software

You can archive a file anytime you want

Locks your crypto folders automatically every time you log off of your system
7. OneDrive:
If you are using windows, you probably have it installed already. OneDrive provides you with a storage space of 15 GB. Launched in 2007, OneDrive still falls under the 2nd favorite cloud storage according to most of the businesses.
Key Features:
Accessible from any device

Provides a managed cloud storage for businesses
8. iCloud:
iCloud is a cloud storage and cloud computing service from Apple that was launched on October 12, 2011. As of 2018, the service had an estimated 850 million users, up from 782 million users in 2016. iCloud enables users to store data such as documents, photos, and music on remote servers for download to iOS, macOS, or Windows devices, to share and send data to other users, and to manage their Apple devices if lost or stolen. iCloud also provides the means to wirelessly back up iOS devices directly to iCloud, instead of being reliant on manual backups to a host Mac or Windows computer using iTunes. Service users are also able to share photos, music, and games instantly by linking accounts via AirDrop wireless.
Key Features:
Organizing files and folders have become easy with iCloud

iCloud helps in sending messages and saving them automatically.

All documents and files can be stored safely in iCloud and it is user friendly.
Conclusion:
We hope it will be easy for you now to find a cloud computing storage for your organization. In order to pick up the right cloud computing storage for yourself, you need to stay updated about the recent cloud computing trends as well. And knowing about the nook and corners of cloud computing is definitely a must. And the best way to do it is none other than going for a cloud computing certification!
Keep giving a thought to it, and let us keep brewing more new and trending tech topics for you!
Topic Related Post
About Author
If you are looking forward to reading some high ended cloud computing blogs, hers are the ones you should look up to. With an experience of over 20 years in cloud computing, she is well aware of the features of AWS, Microsoft Azure, and Google cloud which gets reflected in her writings. Her articles are the mouthpiece of the cloud world that speaks to us regarding the cloud trends as well as the real-life scenarios of a cloud environment. Her experience in cloud consulting and implementation plays a huge role in her write-ups and the professionals end up getting just the solution they need.