Vikas Sharma
Last updated 26/10/2023
---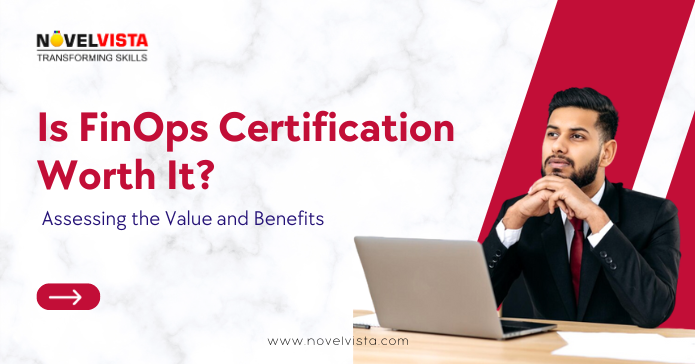 Overview
FinOps is a cloud financial management practice that helps businesses control cloud costs and achieve ROI. As cloud adoption advances, FinOps is becoming increasingly important for non-tech businesses.
FinOps certification is a valuable credential that allows you to learn cloud financial management best practices and gain the skills you need to reduce cloud costs and contribute to business success.
If you're a non-tech business struggling to manage your cloud costs, FinOps certification is a great way to get the knowledge and skills you need to succeed.
In today's technical landscape, the Cloud has become an integral part of businesses, so they depend on cloud services to manage their costs and optimize cloud spending. So, it becomes crucial for businesses to manage all operations. Still, there are different technical practices also developed to reduce the cloud issues, not the real question: is it really worth getting certified in FinOps? Let's find out various factors related to this certification and the major factors to enroll for this.
First, understand what FinOps is.
FinOps is an evolving cloud management that allows businesses to get high business value.
With the increasing demand for cloud computing, businesses are implementing its practices in their business.
Due to this, it is getting complex for businesses to manage cloud costs, and here, FinOps help effectively to reduce this issue.
Information Technology (IT) and DevOps teams also collaborate under FinOps to develop different methods and operations.
Before going into FinOps, let's have a quick overview of Financial Operations and why it has gained prominence in the tech industry. As the Cloud Computing market grows rapidly, controlling the cost of the Cloud has become one of the top concerns for organizations. Based on Gartner, cloud waste is a significant problem, with businesses overspending by 35% on average. This is where FinOps practices come into play and contribute to businesses gaining control over their cloud spending.
Cloud Computing has become significant aspect of business therefore it's mandatory to have strong understanding of its practices and applications. It would be beneficial for you, if you check our Cloud Computing Foundation Certification. It will help you with all cloud environments and its best practices.
The Financial Operations are progressing cloud financial management discipline and cultural practice that allows businesses to get maximum business value by helping engineering, finance, technology, and organizational teams to collaborate on data-driven spending decisions. Within the FinOps framework, Information Technology (IT) and DevOps teams collaborate with different operations and practices. To get the overview of DevOps, check Certified DevOps Practitioner Training & Certification.
What You Will Learn In This Certification?
You will understand the basic principles and practices of FinOps along with its operating model. All these things will contribute to managing cloud costs effectively.
Analyse the use of tools and frameworks.
Understand cloud usage, cost modelling, cost allocation and resource planning.
Understand the major components of FinOps and how they should be used in businesses.
Identify how businesses work to define their pricing model aims with Financial Operations.
FinOps Certification:
FinOps Certification is the credential that showcases your knowledge and expertise in cloud financial management. It validates your skills in developing FinOps practices to analyze cloud costs. We provide this certification which is specialized in FinOps like FinOps certification, FinOps certified practitioner, FinOps certified professional, etc.
It's one of the in-depth and hands-on FinOps training courses provided by us, which is designed for all individuals who want to gain a core understanding of FinOps. The certification covers its fundamentals, core components, working, etc. The FinOps Certification cost is 45,000/- Rupees.
Types of FinOps Certification:
1. FinOps Certified Practitioner
A FinOps Certified Practitioner Training is a professional who has demonstrated a fundamental understanding of principles and their practices. It has completed the certification program, which validates its skills and knowledge in areas such as cloud economics cost optimization and Cloud financial management. This certification is elaborated and developed for professionals who are included in cloud cost management, such as financial analysis, cloud architects, cloud engineers, and business leaders. This certification is well-designed to provide a comprehensive overview of FinOps, including its principles, tools, practices, and case studies.
2. FinOps Certified Professional
The FinOps certified professional is an advanced certification program which is designed for professionals who want to become experts in the practice of FinOps. This certification includes and exercises different case studies and real-world examples.
3. AWS FinOps certification
The AWS FinOps Certification program confirms a person's proficiency in effectively managing and optimizing cloud costs within the AWS environment. This certification encompasses areas like expense allocation, pricing models based on usage, strategies for cost efficiency, and ensuring governance and compliance in managing cloud costs.
Here, you must have an understanding of AWS Cloud for security compliance and resource optimizations so that you can successfully manage the cloud cost and its related operations. For this, visit our AWS Certified Cloud Practitioner. You will get to know about core AWS services and how they contribute to cloud applications.
What Are the Benefits of FOCP Certification?
The following are the different benefits of FOCP certification:
Acknowledgment of Expertise: Financial Operations Certification elaborates that individuals have a strong understanding of different principles and features they can effectively use. Our FinOps certification provides a strong acknowledgment of expertise, which can be valuable for professional career advancement.
Improved Job Opportunities: Our Cloud FinOps certification offers you the skills and knowledge required to optimize cloud spending and gain better financial results. It supports you to get different job opportunities and enhanced results for the businesses. FinOps Certification validates the FinOps abilities and develops the professional credibility for individuals who are working in a variety of cloud, financial, and technology roles.
Development of best practices: FinOps Certification has successfully promoted the development of excellent practices of Cloud Financial Management. This program is well designed with respect to a strong understanding of FinOps principles and best practices, which will help businesses analyze and optimize cloud spending in order to gain better financial outcomes.
Professional Growth: With the growing requirement for FinOps professionals, our certification successfully contributes to providing you with a diverse range of career opportunities and potentially leads to higher salaries.
Practical Knowledge: Our training program helps an individual to get professional development, learning, and career advancement. It also includes training and networking opportunities that contribute individuals to expand their skills and knowledge. We also provide the latest market trends and real-time case studies so that individuals can understand the practical knowledge quickly.
Is FinOps Certification Worth It?
The value of a FinOps certification basically depends on your career objectives, existing skills, and the specific sector within which you are employed. Companies are progressively depending on cloud services to maintain the currency of their databases. However, if the cloud infrastructure experiences downtime, businesses could face substantial financial losses, rendering them unable to operate and potentially losing out on customers.
The FinOps certification serves as a validation of an individual's required skills and helps establish their professional credibility in various roles related to Cloud, finance, and technology. The key focus areas of these programs include financial management, cost control, forecasting, and cost management.
The FinOps Certified Practitioner FOCP elements introduce the concept of financial responsibility while addressing the fluctuations in costs associated with the pay-as-you-go model. Given that most businesses today are either cloud-native or have transitioned to cloud computing, having individuals or services with a strong understanding of managing cloud financial expenditures is of paramount importance.
Career Goals: If you are motivated to build your career in Cloud Financial Management, or your job role includes cloud practices and managing cloud costs, then our Cloud FinOps certification is highly beneficial for you. Our experts not only help you with the required skills and knowledge but also demonstrate to you real-world case scenarios with applications.
Industry Landscape Requirements: The requirements of FinOps Professionals are increasing as businesses are migrating to the Cloud. Different industries are actively seeking individuals who will contribute to controlling cloud costs and optimising spending. With the help of our certification, you can make yourself stand out in the competitive job market.
Skill Improvement: Even if you have experience in cloud financial management, completing FinOps Certification will help you to improve your skills and bring you new methods to control the cloud cost. Our certification also supports continued learning in the field of dynamic cloud technology.
Return on Investment (ROI): While FinOps Certification comes with a cost, it provides a significant Return on Investment. Higher salaries and better job opportunities can quickly outweigh the initial certification fees. Also, the skills and knowledge gained with certification can lead to cost savings for businesses.
Who Should Get FinOps Certification?
Our certification is for experienced ones and beginners also. We developed the certification for those FinOps practitioners who are planning to hold positions related to cloud management or if they support FinOps teams as consultants.
Following are the target audience for the certification:
CEO and other executives that manage companies with cloud computing resources.
Cloud Architects, Cloud Engineers and other technical roles that organise cloud resources.
Business Unit Leads, Application Stakeholders.
Procurement Authorities.
Anyone wanting to learn FinOps.
Final Words
The above blog has elaborated on the different aspects of FinOps Certification. After reading the above details, you will understand how the FinOps Certification is worth getting for better job opportunities. We at NovelVista provide this certification for beginners and experienced individuals. Without wasting any time, visit our FinOps Certification Online Course to get more details of different certifications which are demanded in today's fast-evolving marketplace.
Topic Related Post
About Author
Vikas is an Accredited SIAM, ITIL, PRINCE2 Agile, DevOps, ITAM Trainer with more than 17 years of industry experience currently working with NovelVista as Principal Consultant.