Archana Todmal
Last updated 22/07/2021
---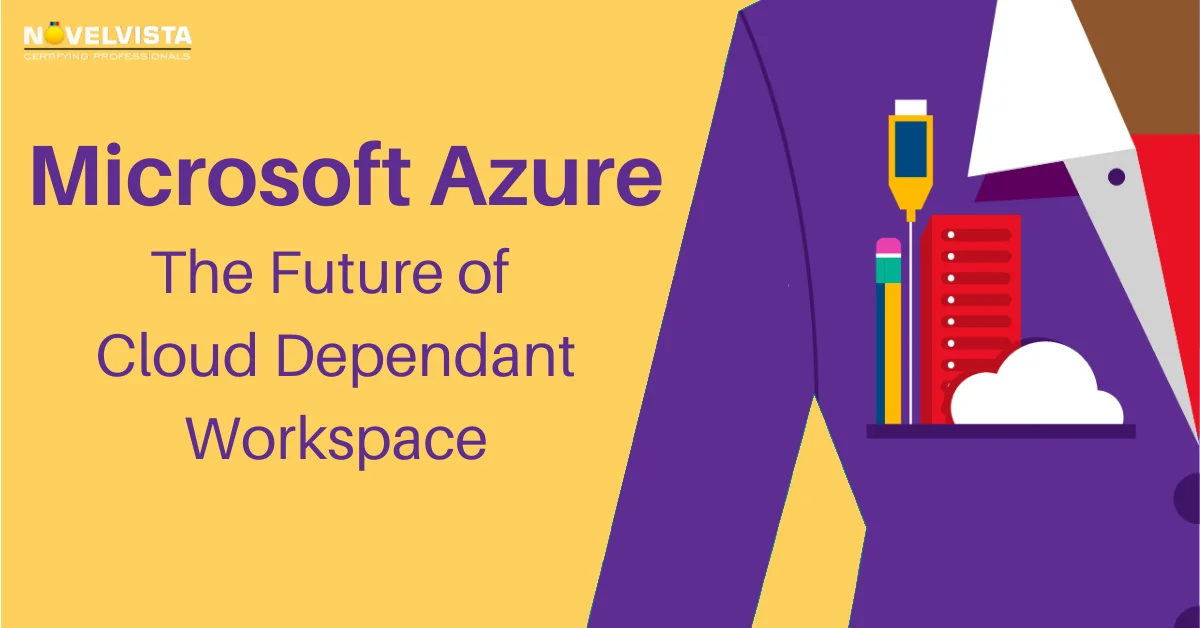 Are you taking the help of cloud computing in your organization?
You must be rolling on the floor laughing by now by seeing this question.
Seriously! Can any organization function without cloud computing anymore?
Of course not! We are way ahead of that traditional period. Isn't it?
Well, according to the history of cloud computing, the concept of VPN came on board in the year of 1990. In 2006, Amazon came up with the concept of AWS. In 2008, Google released a beta version of Google App Engine for cloud services. Like these two, so many cloud computing tools kept coming on board as the time passed by. Lastly, in 2010, Microsoft released Microsoft Azure with a bash.
If you ask Google which organizations use Microsoft Azure, you might get surprised by the answer. Along with the bigshots like Accenture, LinkedIn, Starbucks there is a total of 4169 companies who are using Microsoft Azure as their cloud computing service provider.
But, what is the exact concept of Microsoft Azure? And how does it exactly benefit the cloud service?
In this blog, you are going to find all the answers to the questions you have ever had about Microsoft Azure. So let's get done with it. Shall we?
What is Microsoft Azure:
Well, this is a question most of you probably know the answer to. Still, for the sake of the article and to brush up your knowledge again, Microsoft Azure is a cloud-based platform for testing, deploying, building, and managing applications and services through Microsoft managed the data-center.
Azure's cloud adoption framework provides the customers with a set of tools, guidance, and narratives that help them to shape the technology and business in a way they need to accelerate the business outcome.
Like any other framework, this, too, has a particular lifecycle and various stages of it.
They are as follows:
Strategy: Defining the business justification and the possible outcomes

Plan: Aligning actionable adoption plans to business outcomes

Ready: Migration and modernization of existing workload

Innovate: Developing new cloud-native or hybrid solution

Govern: Governing the environment and the workload

Manage: Managing the operations for cloud and hybrid solutions
So, you got an idea about how it works?
Great! Now let's see what exactly it does to the cloud services.
How Does Microsoft Azure Benefit The Cloud Services:
According to Dyntek, an average of 1000 customers sign-up with Microsoft Azure every day.
What's with all the charm? What are some Microsoft Azure benefits which other cloud service vendors are not being able to provide? What is Microsoft Azure used for?
We listed a few answers for you below:
Security:
Microsoft Azure introduces your cloud environment to tools like threat intelligence, advanced threat analytics, Azure information protection, and multi-factor authorization. These technologies help you to analyze the threat, identify it and react to any suspicious user or device. Not only that, it provides you the highest level of access security.
Here's how:
Privacy:
Azure helps you to take charge of your customer data by collecting, using, and distributing them on your own. Microsoft helps you with all the information about the data handle mechanism they are going to use. Also, Microsoft will not expose your data to government or law enforcement unless you direct it to do so.
You can check out this video to understand how to make your data secure with Microsoft Azure:
High Availability:
You are aware of the giant Microsoft footprint which has been spread all over the world. Right? Well, that proves the point of high availability. Isn't it?
With the help of datacentre spread all over the world, Azure provides high availability along with redundancy
Cost-Effectiveness:
Unlike other cloud computing vendors, Microsoft Azure doesn't draw a huge amount from your account for the very 1st time itself.
It focuses on a pay-as-you-go method which allows IT companies to play within their IT budget and take only the features they need. That's great, isn't it?
In fact, this gets even better! Frank Boucher, a Microsoft Cloud advocate has guided you through and through in this video to reduce the cost of your Azure virtual machines.
Have a look!
Future of Microsoft Azure:
We don't think we need to tell you this. From the previous statistics, you must have assumed it already. Didn't you?
But you must still be a little doubtful about is Microsoft Azure really worth learning to work with or not.
If we have to draw a graph about Microsoft Azure's progress from 2014 to 2019, you will see it has increased drastically.
SatyaNadella, the CEO of Microsoft stated that Azure is in over 54 regions and has over 90 certifications. The best one so fare among them are:
Microsoft Azure Administrator (AZ-104)

Microsoft Azure Administrator Associate

Microsoft Azure Architect Design (AZ-301)
This certification with it's hands on labs will assist you with increasing a strong comprehension of how to architect an assortment of Azure administrations.
Microsoft Azure Administrator AZ-104 training is aimed towards preparing you to implement, manage, and monitor identity, governance, storage, compute, and virtual networks in a cloud environment.
Microsoft Azure Administration Associate certificationis aimed to train you about managing your Azure subscription, configuring virtual networking, backing up and sharing data through the virtual network, implementing storage solution, managing the traffic that comes through the network, creating virtual machines, implementing Azure Active Directory, securing identities and monitoring your solution.
Microsoft Azure Architect Design certification deliver a vast knowledge of Microsoft Azure architecture so that by the end of this course, you will be able to successfully design data platform solutions and strategies for business continuity and infrastructure.
As an open platform, Azure is a "super OS" that treats Windows, Azure, SQL, Kubernetes, Red Hat, Open Shift, and more as first-class "citizens." This openness allows Microsoft's partners to use tools they prefer to leverage the cloud to impact the real-world experiences of consumers and professionals.
Do you understand what that means? In the next few years, Microsoft Azure is expected to show the world of technology and the era of revolution, by implementing the concept of a cloud-dependent environment successfully.
Market Share of Microsoft Azure along with Competitors:
According to a Statista report, in 2020 Microsoft Azure is in the 2nd position already when it comes to market share.
Pretty cool, isn't it?
Source: Rcpmag
Take Away:
Microsoft Azure can be everything that you have ever dreamt about. But to use Azure cloud services in an effective way, you have to have a Microsoft Azure training first, followed by certification.
Remember about the 90 Microsoft Azure Certifications we just mentioned? If you are curious about where to get one of them, check right here!
Do you have your own reviews about Microsoft Azure? Then drop them in the comment section. We will come back with a lot more information about Microsoft Azure shortly. Till then, stay tuned!
Topic Related Post
About Author
If you are looking forward to reading some high ended cloud computing blogs, hers are the ones you should look up to. With an experience of over 20 years in cloud computing, she is well aware of the features of AWS, Microsoft Azure, and Google cloud which gets reflected in her writings. Her articles are the mouthpiece of the cloud world that speaks to us regarding the cloud trends as well as the real-life scenarios of a cloud environment. Her experience in cloud consulting and implementation plays a huge role in her write-ups and the professionals end up getting just the solution they need.