 Sandeep Kottiyattil
Last updated 22/07/2021
---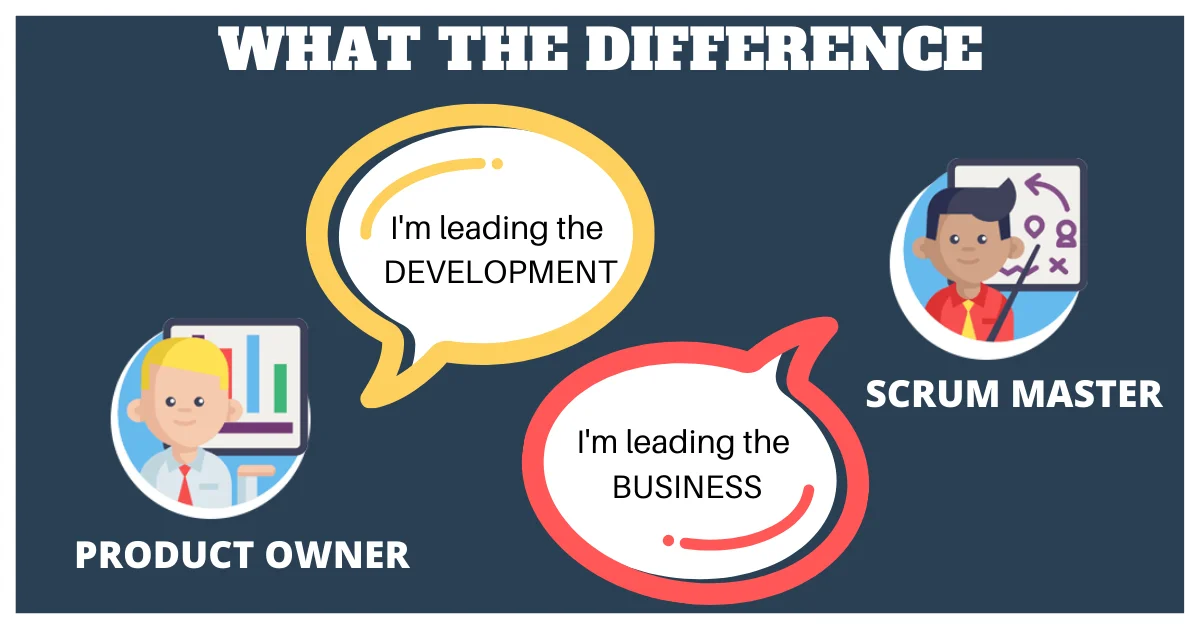 Why do we need both the Scrum Master and the Scrum Product Owner?
Can a Scrum Master and a Scrum Product Owner be the same person?
What are the differences between a scrum manager and scrum product owner?
Well, if you are well aware of each and every part of Scrum, you probably know the answer to these all questions as well. But, if you are not, then too, you don't have to worry about it! Because we are going to give you all the details that you desire right here!
In this blog, we are going to tell you the differences between the Scrum Master and Scrum Product Owner on the basis of their responsibilities, required knowledge base, certifications and salaries. Before you decide your career path in any of them, you need to understand the differences to the depth before choosing one. Isn't it? So before we tell you that, let us tell you the core reason for which people get confused about these two mostly.
Well, a Scrum Product Owner and Scrum Master can never be the same person. But yes, there can be scenarios where the scrum master acts as a product owner or the product owner acts as a scrum master. That's probably the riskiest game one can try to play while handling a scrum project. When a Scrum Master tries to act like a Scrum Product Owner, the Product Owner tends to dominate the role of the Scrum Master. Also, not always the Scrum Master has access to valuable customer feedback. In this way, he or she is more likely to miss the true vision of the product from the customer perspective. On the other hand, when the Product Owner acts as a Scrum Master, after handling all the customer feedbacks and focusing on the end vision of the product, he or she won't get enough time to handle all the responsibilities a Scrum Master should have handled.
So you understand how things can turn upside down if the Scrum Master and the Scrum Product owner is the same person? Not quite? Let us make your concepts about these two roles first then.
Who Is A Scrum Master?
In our previous blog Do You Have These 5 Scrum Master Qualities?, we discussed the qualities a Scrum Master should possess. But who is a Scrum Master really?
A Scrum Master is basically a facilitator of an Agile development team. He is accountable for removing impediments to the ability of the team to deliver the product goals and deliverables. The scrum master is not a traditional team lead or project manager but acts as a buffer between the team and any distracting influences. The scrum master ensures that the Scrum framework is followed. The scrum master helps to ensure the team follows the agreed processes in the Scrum framework, often facilitates key sessions, and encourages the team to improve.
Did your concept get cleared? Now, let's check out what a Scrum Product Owner is.
Who Is A Scrum Product Owner?
In our previous blog 5 Things You Need To Know To Become An Agile Product Owner, we have discussed this one as well. In case you have missed that, let us brief it out for you.
The Scrum Product Owner is the key stakeholder of a Scrum Project. He or she should have a vision of what she wants to build. From the product backlog management to delivering the final product, a Scrum Product Owner should have his or her hands on every little product-oriented detail. The Product Owner is responsible for expressing product backlog items, ordering the items in the product backlog, optimizing the value of work that the development team performs, confirming that the product backlog is visible and transparent to all, making the development team understand the product backlog properly.
Differences between Scrum Product Owner and Scrum Master
Comparisons between job responsibilities:
Need not to say, along with both the job roles, comes a huge amount of responsibility.
Job Responsibilities of Scrum Product Owner
Deciding the product release date

Maximizing the value of the product

Managing product backlogs

Creating and sharing the product vision

Responsibilities regarding ROI

Collaboration with stakeholders

Maximizing the work of Development team
Job Responsibilities of Scrum Master
Scrum Master helps the team to have a better vision of the product in order to accelerate the efficiency of the teams.

Manages Scrum processes and coordinates with the Scrum team while following the Agile methodology.

Removes obstacles for the Scrum team.

Arranges daily stand-up meetings and makes sure that quick inspection and proper use of adaptation processes take place.

Helps the Product Owner with the product backlogs so that he or she can keep it ready for the next sprint.

Conducts retrospective meetings.

Organizes the sprint planning meeting.

Scrum Master keeps the team away from the distractions.
You yourself can see how different but co-depended their responsibilities are. Now, let's go to the knowledge part that a Scrum Master and a Scrum Product Owner should have.
Comparisons Between Skills Required:
Skills required to become Scrum Product Owner
Product-oriented instead of being project-oriented

Able to act as a delegator and a developer at the same time

Able to avoid conflicts in a tactical way

Know how to delight your customers

Vast knowledge of C++, UML, Software Architecture and Design Patterns

.
Skills required to become Scrum Master
Comparison Between Pre-Requisites:
Well, this one is similar to both the certifications.
If you want to pursue certification for either the Scrum Master or Agile Product Owner, it's not necessary that you have to have prerequisites for it.
Although, if you have 2-3 years of experience covering all the phases of Software Development Life Cycle, that's always an add on!
Comparison Between Salaries:
Nowadays, the Agile mindset is not only very in trend according to corporates, but it is also spreading the wings more with the passing years, Hence, you can understand how the companies are providing a very handsome salary to Scrum Masters and Scrum Product Owners.
Scrum Product Owner Salary in India
On the other hand. Product owners end up getting on 1,443,653 on an average. It can go to 2 Million as well, depending on the different industries.
Source: Glassdoor
Scrum Master Salary in India
The average salary a Scrum Master gets in India is Rs 1,230,371. And, if you have proper experience in the same field. That can even go up to 1 Million! Can you imagine that?
Source: PayScale
Comparisons Between Certifications:
Scrum Product Owner, on the other hand, demands a Certified Scrum Product Owner Training.
If you want to be a Scrum Master, you will need to take up a Certified Scrum Master certification and to prepare for that, a proper Certified Scrum Master Training.
Conclusion:
Coming back to the point that we mentioned previously. Do you still think that a Scrum Master and Scrum Product Owner can be the same person now? No chance, right?
Keep following our blogs to know more about important job roles that deal with Agile and Scrum. And in order to stay upskilled, start keeping an eye on our courses already!
Topic Related Post
About Author
He is a passionate Agile Scrum professional with 16 years of industry experience and has been noticed by corporate giants in the field of Scaled Agile consultation. He has been crowned with so many certifications including Certified Scrum Master, ITIL V3 Expert, PRINCE2 Practitioner, and Lean Six Sigma Black Belt. Besides delivering consultation to complicated Scrum related problems, he excels in writing about CSM consulting & implementation, GAP Analysis, ISO Audits, Process, and Service Improvement using Lean Six Sigma, Process Definition, Implementation & Compliance, Process hygiene (ISO 20000), Quality assurance & program governance.