 Sandeep Kottiyattil
Last updated 21/07/2021
---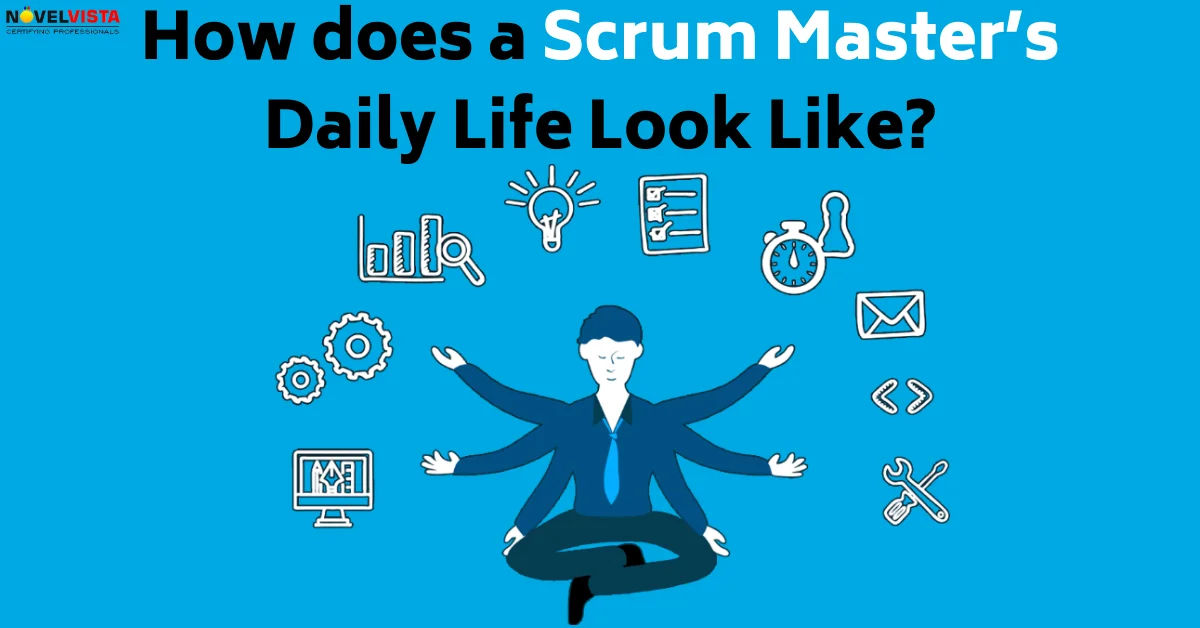 One question is pretty common from participants during our Agile and DevOps training and coaching is 'what does the Scrum Master do all day?'. Misguided judgments about the job are overflowing. A few people believe they're responsible for everything, others believe they're responsible in vain. In the most pessimistic scenarios, they're viewed as the group dogsbody, accountable for booking gatherings, making espresso, and reviewing notes.
Truth be told, the Scrum Master assumes the crucial job of inspiration and facilitator, empowering the group to work flawlessly and adequately. This goes a long way past the day by day hold up. They need to keep the group concentrated on long haul objectives while exploring quick needs and obstacles. Carrying out the responsibility well requires a decent profundity and broadness of specialized information just as brilliant relational, correspondence, and critical thinking abilities.
All in all, what occurs after the every day hold up? DevOpsGroup Scrum Master Charlotte Williams gave us a clear vision of a Scrum Master's regular working day.
A day in the life of a Scrum Master
9.00 Coffee and a chat
Charlotte Williams said, "I make my way up to the 22nd floor of Capital Tower, grab a coffee, and take a moment to enjoy the awesome views we have across Cardiff before logging on to my emails and Slack."
She added with a laugh, "There's usually some good chat going on between our office-based and remote workers about what's happening in our lives and whether we made it to the gym last night. I also have an informal discussion with my scrum team about any successes or challenges encountered the day before. We get the catching up out of the way early, so the scrum teams are ready to focus on their daily stand-ups and start work."
9.30 The daily stand-up
"This is the most important part of the day, so you have to use it wisely!" Charlotte suggested. "My scrum team knows the routine – everyone briefly updates the group on their progress towards the sprint goal and highlights any issues slowing them down. We need to keep it concise and pacey, so I ask 'what did you achieve yesterday?' not 'what did you do yesterday?'
But why not instructing them directly? Here, as well, Charlotte had a very interesting viewpoint. "I'm not the boss of the team – I don't have any authority over what they do or how they do it. I just need to keep a finger on the pulse of how the sprint is progressing, so that any blockers can be resolved before they escalate."
Let's hear how Charlotte's team coordinates with each other. "Today, one of our engineers has an issue with her machine and another has discovered he can't proceed with a job because he doesn't have the relevant permissions for the environment. They decide to pair-up with teammates on other tasks that need to be completed by the end of the day."
So what does Charlotte do during that time then? "I tend to focus on the work flowing through the board rather than the individuals responsible for it. This allows the team to collaborate over potential impediments and prioritize their own work to deliver maximum value. I find this approach motivates the team and enables them to get all the information they need for the day quickly. We use a timer so we don't go beyond the 15-minute timebox, but we like to wrap-up inside 10 minutes if we can.
We finish 20 minutes before my next meeting, so I pop round to ask the IT team to get a replacement laptop sorted. Then I Slack the management team to request access to the environment that the engineer couldn't reach." That's how Charlotte thinks it should be done everywhere.
10.00 Scrum of scrums
When they have acted on any immediate needs identified in the daily stand-ups, Scrum Masters across shared products get together for the scrum of scrums. This is basically a chance to look at the big picture view of progress and flag any impediments that may have repercussions for each other's teams.
"I'm confident that the issues facing my two engineers will be resolved today and won't have any wider impact. However, one of the Scrum Masters is concerned that a problematic piece of the codebase is slowing his team's progress this sprint. We document this and agree to revisit it tomorrow.
Once this is wrapped up, I check back with my team and see that a replacement laptop has been set up, so at least one of the redeployed engineers has returned to her original backlog."- Charlotte said.
11.00 Weekly backlog review
This is the day for the regular backlog review with the scrum team's Product Owner. The whole team put aside 60 minutes, twice per sprint to distinguish high need things, and consider how they can be refined for the coming sprint.
In Charlotte's version, "I originally trained as an engineer, so I have a good understanding of how tasks can be broken down into manageable pieces. One piece of work that the Product Owner wants to push through quickly is more technically complex than it might appear. So, I explain the mechanics involved and we find a way to split it across the next two consecutive sprints.
During this session, we also refer back to the product development roadmap and release plans. We know that a couple of team members have booked a holiday around the Easter break, so we adjust the list of high priority items to account for that and feed this back to the team. While the engineers need to focus on their individual backlogs day-to-day, it's important for them to see how the team is progressing towards long-term goals. It also means people can relax and take well-deserved time off without feeling they're leaving the team in the lurch."
12.00 Lunchtime
Charlotte just loves to hang out in the kitchen over lunchtime. "I first came to DevOpsGroup as an intern in 2017, then joined permanently after I graduated the following year. Since then, I've moved from Engineer to Scrum Master, so I've worked directly with a lot of the guys here. We have a really dynamic and supportive culture, and there's always someone to catch up with over a sandwich. I head outside for a bit of fresh air, then come back ready to see what the afternoon will bring." Charlotte looked quite joyful while stating this.
13.00 Ad hoc team catch up
In Charlotte's verses, "I get back to my desk to find that the environment access issues facing one of our engineers have been resolved, so everyone is back on track. It sounds like the morning's pairing up has brought a couple of developments to a conclusion earlier than scheduled too. Overall, the team is still on target, everyone is settled into the rhythm of the day and there are no issues needing my attention.
I take advantage of a bit of a slow time to get things organized for our next sprint meeting in a couple of days. I book a room for the seven of us, and pull together all the resources we'll need for the demo, retrospective, and planning – there's nothing worse than running out of Post-its or whiteboard markers when you need them most."
14.00 Agile coaching
The day we were talking, on that specific afternoon, Charlotte has set aside a couple of hours for Agile coaching with the finance team, as she shared. "This is one of the most rewarding parts of my job, helping the wider business and non-technical people realize the benefits of DevOps and Agile ways of working. It's great to see how simple changes can make radical differences to the working day, so people have more time to focus on interesting work instead of being bogged down by manual processes." Charlotte shared.
"The finance team has been implementing Agile practices to improve workflow and efficiency, but there have been a few teething problems. One challenge has been visualizing the workflow for raising and paying invoices. Last week I helped them address this using the tried-and-tested whiteboard and Post-its approach. We run through progress and they all seem far more confident than they did a week ago. Everyone is satisfied with the outcome, and we agree to replicate the approach across more processes." said Charlotte while explaining its importance.
16.00 Review the burndown chart
That's probably the last task of a Scrum Master before heading home, but the most important one. Back at their desk, they check the scrum team's progress updates on the online tracking software and feel relieved that they haven't lost too much time following the morning's impediments. "I plot the day's actions onto the burnout chart, and it's looking pretty good. Work in progress levels are a little high though, so I make a note to raise this during the retrospective in a few days' time." Charlotte stated when we asked her about this.
17.00 Hometime!
The most important job of a Scrum Master is to communicate with the team about the progress and keep their spirit level up. "Before we all head off for the evening, I whip round the team to check everyone's had a good day. I let them know we're on track with progress for the sprint, despite the issues raised in the stand-up. I do a final check to ensure all the boards and tickets are up-to-date and that's another day done!"
Well, so that's how Charlotte's day looks like! How does your one go? Let us know in the comment section below!
Topic Related Post
About Author
He is a passionate Agile Scrum professional with 16 years of industry experience and has been noticed by corporate giants in the field of Scaled Agile consultation. He has been crowned with so many certifications including Certified Scrum Master, ITIL V3 Expert, PRINCE2 Practitioner, and Lean Six Sigma Black Belt. Besides delivering consultation to complicated Scrum related problems, he excels in writing about CSM consulting & implementation, GAP Analysis, ISO Audits, Process, and Service Improvement using Lean Six Sigma, Process Definition, Implementation & Compliance, Process hygiene (ISO 20000), Quality assurance & program governance.