 Sandeep Kottiyattil
Last updated 29/05/2023
---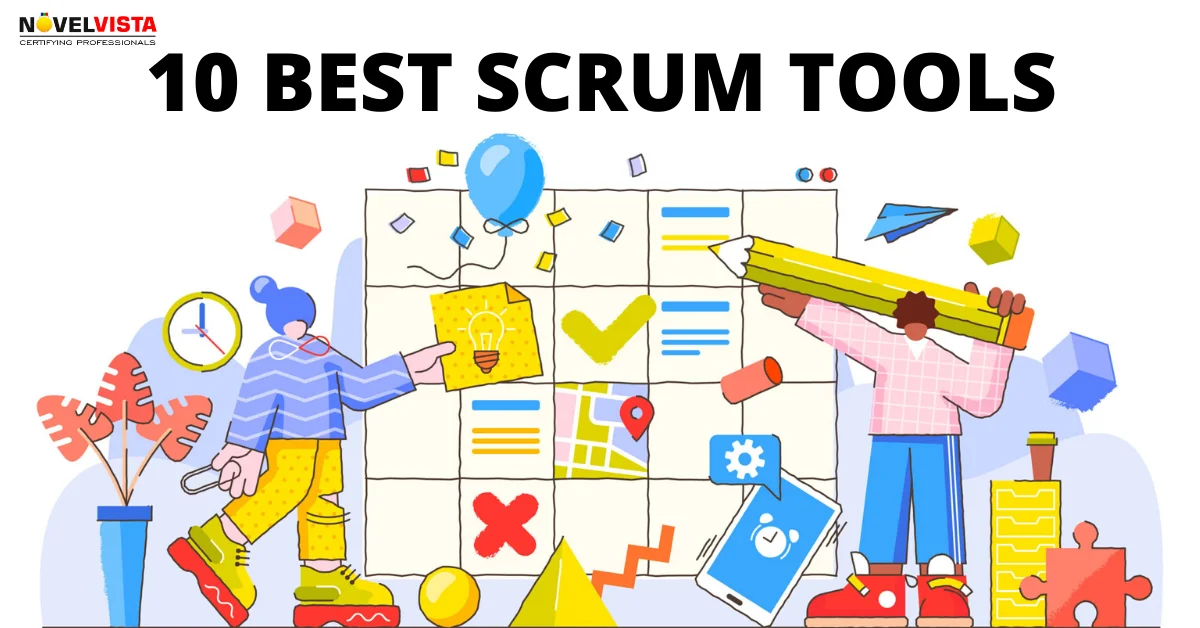 Why do we need Scrum tools?
Well, we are familiar with the concept of Agile and Scrum. We also know how going agile is being a huge help for a lot of organizations. Those who are still confused between Agile and Scrum, let us start by briefing them out about Scrum once again.
Scrum is an agile framework for developing, delivering, and sustaining complex products, with an initial emphasis on software development, although it has been used in other fields including research, sales, marketing, and advanced technologies. It is designed for teams of ten or fewer members, who break their work into goals that can be completed within timeboxed iterations, called sprints, no longer than one month, and most commonly two weeks. The Scrum Team tracks progress in 15-minute time-boxed daily meetings, called daily scrums. At the end of the sprint, the team holds a sprint review, to demonstrate the work done, and sprint retrospective to continuously improve.
But the question remains intact, why the scrum software and agile tools are needed?
Although Scrum originated from the software development sector, it is not just limited to that. From marketing agencies to construction businesses, the Scrum framework can be used anywhere. Here are 10 best Scrum Software that can help you to realize Scrum software integration is really necessary!


Top 10 Scrum Tools/Software for Agile Management
The tagline of Monday.com says, "Become a scrum master with Monday.com". And it is true indeed. Monday.com has vigorous time tracking abilities and customizable notifications and automation. It enables you to focus on necessities. It also helps you in creating, visualizing, and sharing your roadmap to keep everyone in sync.
Some special features of Monday.com are:
In monday.com backlogs are easy to create and use. They can be filtered or sorted according to any column you choose.

Through different columns, monday.com helps teams to plan their sprints in a full proof customizable interface that helps workflow creation fit the team's needs.

monday.com offers multiple views through which you can create burndown charts and analyze your work, such as kanban, timeline, files, among many others.

monday.com allows integration with project management apps like Slack, Google Drive, Gmail, Google Calendar, Jira, GitHub, Trello, Dropbox, Typeform, and many more like that.
This one is not exactly a scrum tool. But it is an award-winning Project Management tool used by giant organizations like Nasa, Volvo, Ralph Lauren, and many more. Why you may ask? Because it hs some really useful features that can help in implementing the Scrum methodologies. Let's see what these features are.
There are Kanban boards with real-time dashboards in ProjectManager.com that help you in visualizing your work, as well as effortlessly switching between various tasks and project views to help visualize work.

The notifications of ProjectManager.com are pretty basic but fruitful. You can apply automated alerts to stay on top of pending tasks.

ProjectManager.com integrations involve native integrations with GoogleApps such as Drive, Gmail, Calendar, etc. as well as Microsoft Office and Microsoft Project. For all other integrations, you Zapier can be used to sync ProjectManager.com with other tools.
Purchasing ProjectManager.com is pretty cost-effective too, as its pricing starts at $15/user/month, along with a 30-day free trial.
You've likely known about Jira—it's presumably the most broadly utilized cloud and membership-based scrum software used by Agile teams. Since it's so mainstream, huge numbers of the other project management applications can be integrated with Jira. This agile tool has pretty much everything, except we do locate that different tools like Targetprocess offer more noteworthy degrees of customization, particularly in building custom reports and dashboard representations. But Jira has its own pros. It's a balanced, comfortable tool with sensible valuing plans for little groups, moderate-sized groups, and endeavor. Jira includes the following features:
Jira delivers a maintained and balanced string of scrum project management tools along with customizable scrum and kanban boards, custom filters for backlog grooming, customizable workflows, and dozens of visual reports (burndown, cumulative flow, velocity, etc).

Jira integrates with over 3000 other apps, has a strong set of APIs, and is available on all mobile devices.
Jira subscription starts from $10/month for up to 10 users. On top of that, it is the only scrum software that has a free license offering for qualifying charitable organizations, educational settings, and open source initiatives.
For nearly 15 years, Targetprocess has been rolling the dices and influencing a central platform to support various applications of agile frameworks. As it is created to fit numerous use cases and project management types, it's definitely a good choice for agile organizations with different portfolios who can get benefitted from being able to adapt their software instead of having to switch or mess around with using multiple platforms. It's also a pretty wise choice for small projects that are projected to scale quickly.
Targetprocess is a scrum tool that is rich in features and offers high degrees of customization, from customizable views to custom cards, graphical reports, and report templates.

Targetprocess is built to integrate through plugins, mashups, webhooks, REST API, and SDK making it refreshingly versatile and practical for teams who need to sync multiple tools.

It is also available for Android and IOS.

The subscription of Targetprocess starts with a free Team version for unlimited users. The Company version costs from $20/user/month.
ClickUp strikes an impressive balance between high performance and practicality offering a wide range of training resources. Overall, ClickUp is simply one of the best scrum tools out there not only is it focused on being easy to learn, integrate, and customize, it's also a forward-looking application that incorporates leading-edge technology like NLP and ML.
ClickUp has broader functionality than many other scrum apps, offering high value for the straightforward price of $5/user/month.

The tool includes Gantt charts, project templates, time tracking, and scheduling, in addition to all of the scrum essentials.

ClickUp also makes use of AI: the tool applies natural language processing (NLP) to interpret dates and times so users don't have to concern themselves with exact formatting.

ClickUp has 1000+ integrations and imports the existing data from CSV files or apps like Airtable, Asana, Trello Jira, todoist, Flow, and 50+ more platforms.

ClickUp costs $5/user/month. They also have a free version that's quite generous, with unlimited users and unlimited projects.
MeisterTask is a simple, beautiful task management tool for agile teams. The web-based platform provides flexible Kanban boards to manage your backlogs and sprints. This is a great tool for companies who are just starting out with the Scrum methodology, but thanks to its built-in automation and a large number of integrations with other tools, it easily scales with your needs. Some basic features of MeisterTask include:
Using MeisterTask's Kanban-based boards, you can create backlogs, sprints, and manage tasks collaboratively with your team.

You can use tags to prioritize tasks and visualize dependencies using task relationships. Real-time notifications keep both the project team and the product owner up to date about project progress, while detailed statistics and reports provide insight into the team's performance.

A personalized dashboard ensures that you see at a glance what you need to focus on today and keep track of all tasks relevant to you.

While MeisterTask was originally built for agile software teams, it's simple and versatile boards can easily be used by all departments in your organization, which is great if you're looking to get all team members onto the same platform and improve cross-departmental collaboration.

MeisterTask integrates with the mind mapping app MindMeister where you can brainstorm and plan with a mind map and then export it onto a Kanban board.

MeisterTask costs from $8.25/user/month. They also offer a free plan with limited functionality.
Vivify Scrum is a well-balanced tool with useful scrum features and an appealing UI. This cloud-based app offers a clean, clutter-free interface that can display all projects on a single page. Many scrum tools claim to make project management seamless, but Vivify's intuitive flow and quick navigation actually deliver that seamless feeling. And at $8/user/month, it offers a wider array of business functions than you'd expect, including invoicing and a files management package. This is a low-risk tool for large organizations to try out, as it's free for an unlimited number of users, limited only in functionality. If detailed and highly configurable reporting and stats are critical for you, however, there are better tools out there.
While some tools like Scrumwise (above) focus on distilling the complexities of an agile project environment within a simplified interface, Axosoft's approach is to simply embrace complexity. This scrum tool gives structure and organization to the many components of scrum project management, providing an information-rich display of relevant scrum project data. Some tools give you about as much granular control as a carnival bumper car—Axosoft is more like a pilot's cockpit (granted, a user-friendly one).
One feature that makes this tool especially useful is their release planner, which allow users to view capacity at the sprint, team, and team member level.

It also offers a helpful ranking tool for prioritizing tasks, a tool for building custom workflows, and a "Daily Scrum Mode" for zooming into the day's progress, identifying obstacles, and giving updates.

Of course, it also has your scrum software fundamentals like drag-and-drop boards, Kanban-style cards, burndown charts, flow charts, etc.

Axosoft has a growing list of dozens of integrations (including Zapier, GitHub, Salesforce, Slack, Trello, GitLab, Bitbucket, and many more) and offers a mobile app as well.
Scrumwise has been around since 2009, and has built out a very intuitive, user-friendly Scrum master tool over the past decade. It's dedicated its attention to being a simple, superb agile project management software. Because of this, Scrumwise is a good choice for teams who want a focused scrum tool without having to dig through (or pay for) additional project/business management features.
Scrumwise offers a full set of features for the task, time, backlog, and sprint management

The tool has a simple interface with drag-and-drop kanban boards and easy-to-digest visualizations in their burndown charts.

This tool has a selective approach to features and attempts to get rid of complexities, making it a good choice for small- to mid-size teams who don't need anything too robust. Even the pricing of this tool is simple, offering a single, full version at $7.50/month/user.

You can export all your data for easy ad-hoc analysis and reporting (simple copy and paste, exporting to CSV or XML files), and the API enables one- and two-way syncs with other tools. Although this scrum app has minimal out-of-the-box integration with other platforms, it does run on both IOS and Android phones.
This scrum app isn't about the features—it's about people, how they use the app, and how their use of scrum fits into the organization at large. The training and education offerings are really the biggest value that Quickscrum provides. They claim to have the largest scrum community, spanning a worldwide network of coaches, certified Scrum professionals, developers, product owners, scrum masters, and more. They offer a free membership where people can access resources created by their community, including scrum video tutorials and articles. Additionally, they offer agile transformation, coaching, and training services (for an additional price). For this reason, Quickscrum is a good tool for any team or organization that needs scrum training.
Conclusion:
Now is it clear that how you must use a scrum tool for the benefits of your organization? Well, you can learn a lot more about Scrum tools if you join our Scrum Master course. So what are you waiting for? Join right away!
Topic Related Post
About Author
He is a passionate Agile Scrum professional with 16 years of industry experience and has been noticed by corporate giants in the field of Scaled Agile consultation. He has been crowned with so many certifications including Certified Scrum Master, ITIL V3 Expert, PRINCE2 Practitioner, and Lean Six Sigma Black Belt. Besides delivering consultation to complicated Scrum related problems, he excels in writing about CSM consulting & implementation, GAP Analysis, ISO Audits, Process, and Service Improvement using Lean Six Sigma, Process Definition, Implementation & Compliance, Process hygiene (ISO 20000), Quality assurance & program governance.