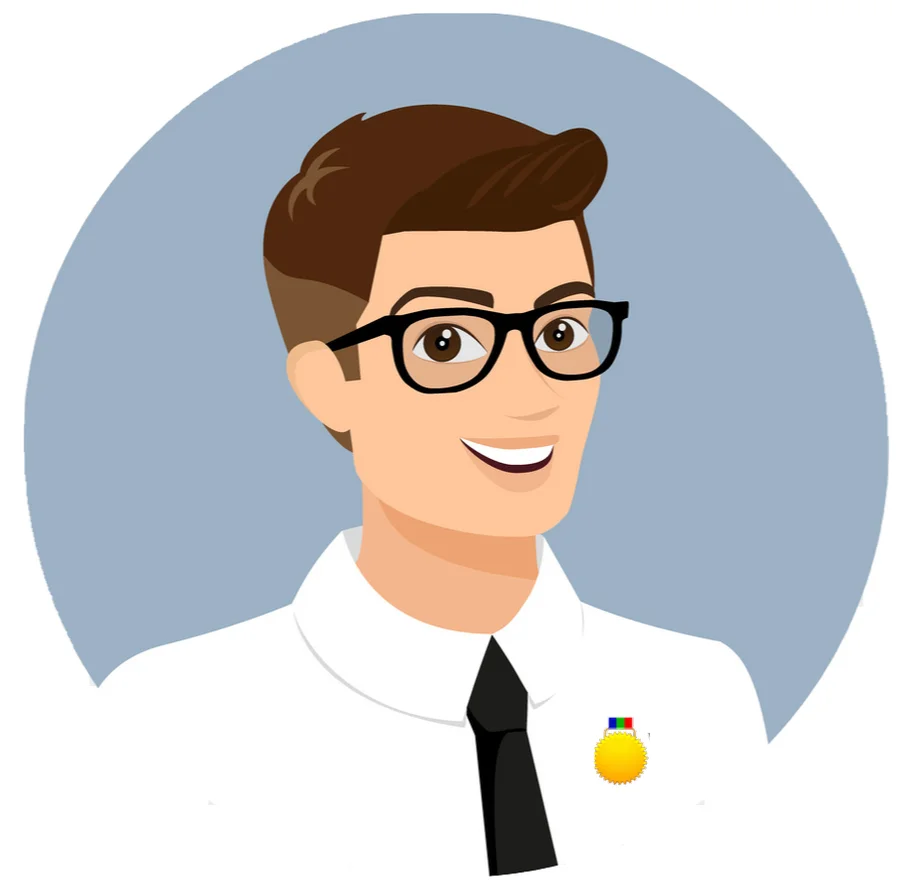 NovelVista
Last updated 21/07/2021
---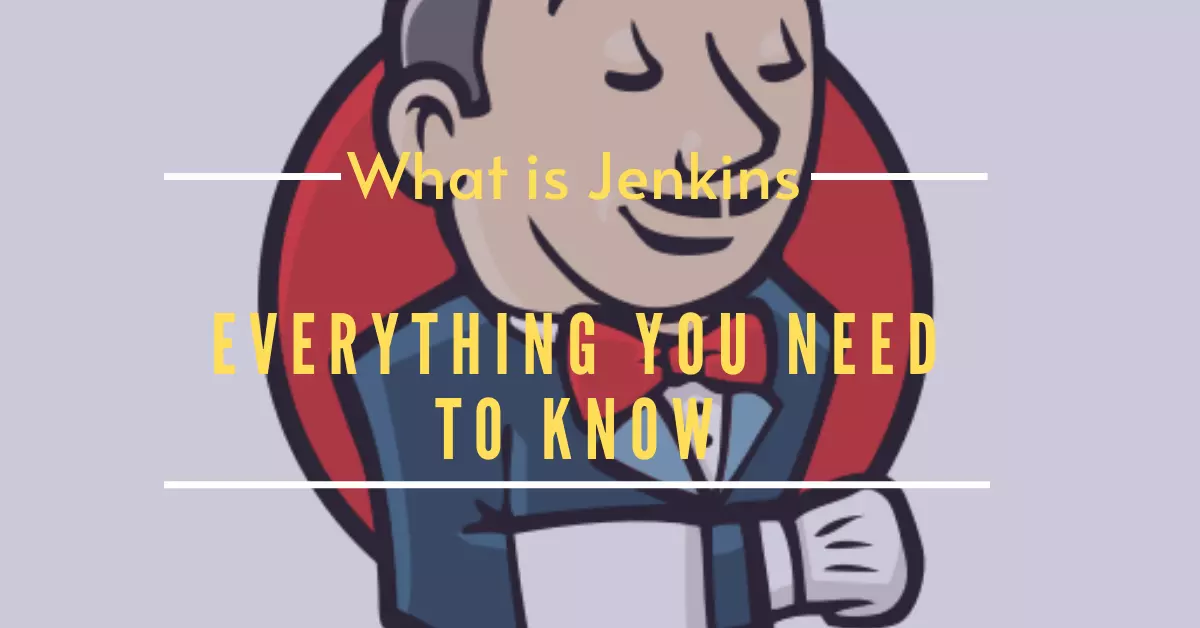 Jenkins is a powerful application that allows continuous integration and continuous delivery of projects, regardless of the platform you are working on. It is a free source that can handle any kind of build or continuous integration. You can integrate Jenkins with several testing and deployment technologies. In this tutorial, we will explain what is Jenkins and all the terminologies related to it.
Before getting into the details of Jenkins let us understand what DevOps is.
DevOps is a set of practices that combines software development (Dev) and IT operations (Ops). It aims to shorten the systems development life cycle and provide continuous delivery with high software quality.
DevOps is primarily implemented in application development for e-commerce websites, cloud-native applications, and other large distributed platforms. It consists of multiple phases that collectively become the DevOps lifecycle.
Continuous Development
Continuous Integration
Continuous Testing
Continuous Feedback
Continuous Monitoring
Continuous Deployment
Continuous Operations
Continuous Integration is the most important part of DevOps that is used to integrate various DevOps stages. Jenkins is the most famous Continuous Integration too.
What is Continuous Integration?
Continuous Integration is a development practice in which the developers are required to commit changes to the source code in a shared repository several times a day or more frequently. Every commit made in the repository is then built. This allows the teams to detect the problems early. Apart from this, depending on the Continuous Integration tool, there are several other functions like deploying the build application on the test server, providing the concerned teams with the build and test results, etc.
The benefits of continuous integration:
Increases the quality of software produced

Makes life easier for testers by allowing them to easily test the software

Reduces the amount deployment failures

Automates the build process

Increases the speed with which software is deployed
We generally tend to use a tool for this phase and the candidates for this are Jenkins, TeamCity, bamboo, GitLab, circleci, travisci, etc.
Out of all of these options, we will be focusing on Jenkins.
What is Jenkins?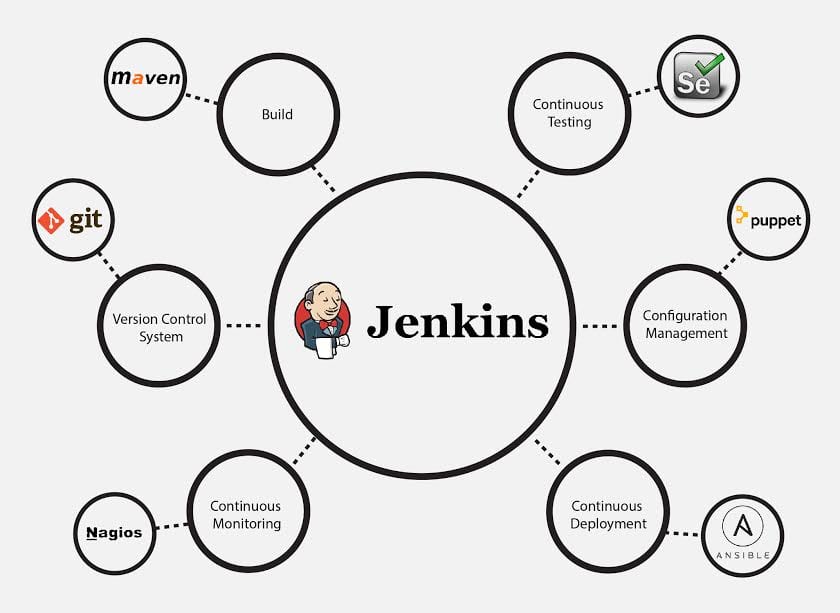 "It is an open-source modern automation tool which is written/developed in Java Language and has multiple plugins specifically designed for continuous integration". Developers need to develop, design, test multiple software and consistently integrate numerous changes in a specific project to make it a productive and easy-to-use tool for the users. Jenkins is the tool that can help the software designers in this regard as it is better than any automation tool in the market.
Jenkins has helped the organization to experiment, develop, design, and boost up the software development process. Jenkins integrates all the processes that are included in the development phase such as, building, documenting, testing, packaging, staging, deploying, statistical analysis, and a lot more. Jenkins does that with the help of its advanced plugins.
These plugins integrate with multiple DevOps stages, and for the integration of any particular tool, you have to install the right plugin for it.
Why is Jenkins So Popular?
Jenkins has become the standard of managing the dev part of DevOps. It is extremely pluggable. In fact, more than 1100 plug-ins have emerged which enable customers to add all kinds of functionalities and integrate Jenkins with GitHub, Active Directory, and OpenShift PaaS.
How does Jenkins work
First, a developer commits the code to the source code repository. Meanwhile, the Jenkins server checks the repository at regular intervals for changes.

Soon after a commit occurs, the Jenkins server detects the changes that have occurred in the source code repository. Jenkins will pull those changes and will start preparing a new build.

If the build fails, then the concerned team will be notified.

If the build is successful, then Jenkins deploys the built-in test server.

After testing, Jenkins generates a feedback and then notifies the developers about the build and test results.

It will continue to check the source code repository for changes made in the source code and the whole process keeps on repeating.
What Tools Can Be Used in Conjunction With Jenkins?
Docker, together with Jenkins can have a big effect on development teams. Docker streamlines the development process thus making deployment much easier. On a physical machine, the development environment slowly corrupts and therefore causes builds to break. However, if you are coding on a clear Docker image, developers only have their flawed code to blame, not the environment.
Conclusion
So that was Jenkins, a beautiful tool that helps us to automate a lot of our software development processes and connect all the different phases. It's completely free and has a very large community. You can use a lot of different plug-ins depending on your needs.
Hope this article was your comprehensive introduction to Jenkins. For courses on DevOps and more, you can check out Novel Vista's page
Topic Related Post
About Author
NovelVista Learning Solutions is a professionally managed training organization with specialization in certification courses. The core management team consists of highly qualified professionals with vast industry experience. NovelVista is an Accredited Training Organization (ATO) to conduct all levels of ITIL Courses. We also conduct training on DevOps, AWS Solution Architect associate, Prince2, MSP, CSM, Cloud Computing, Apache Hadoop, Six Sigma, ISO 20000/27000 & Agile Methodologies.