Archana Todmal
Last updated 23/07/2021
---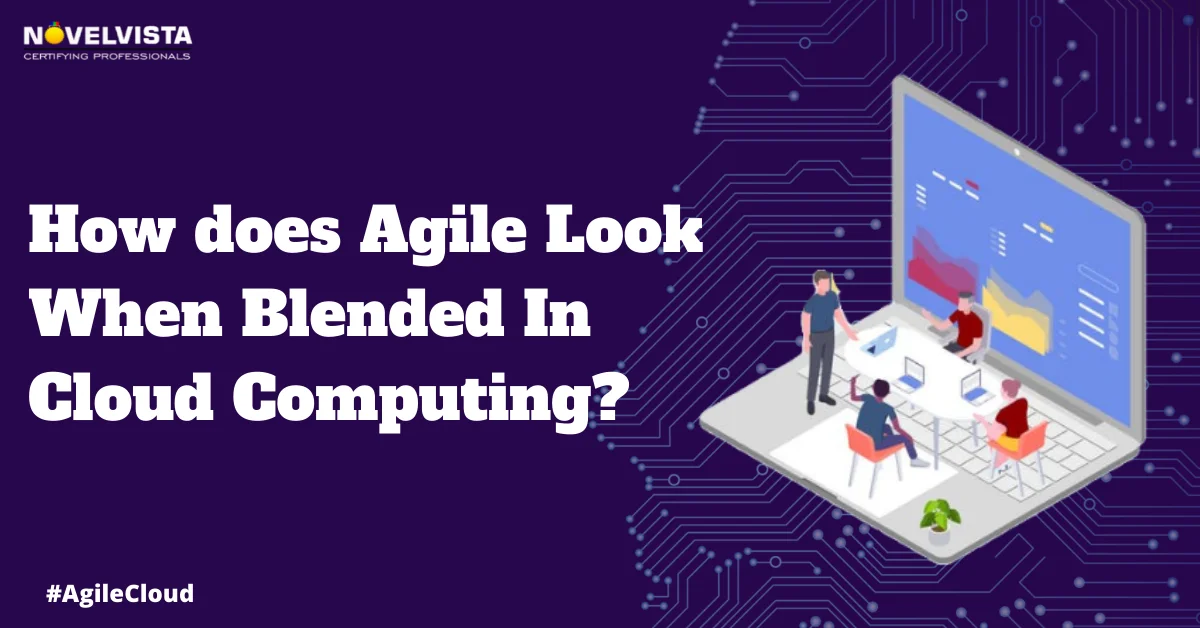 Agile is a mindset or a set of values that helps any organization to work in a flexible way.
Cloud Computing is a technology that deals with the on-demand availability of computer system resources, especially data storage and computing power.
The question is, what do they have to do with each other?
Well, let us explain this with the help of fiction. Alfred Pennyworth was a butler at Wayne mansion. Lucius Fox, on the other hand, was a tech-savvy person who could create wonder in his field. They shared only one common interest, to help Batman for his ventures. And together, they ended up being the backbone of Batman.
Similarly, Agile and Cloud Computing might be two different terms, but they complement each other. You might want to ask how? Also, what benefits does cloud computing bring when you combine it with Agile?
In this blog, we are going to tell you about the pinpoints where Agile and Cloud Computing complement each other, how to apply agile development methodology in cloud computing and the benefits of this amazing combination. Before we start, make sure to jot down all your queries and find an answer to all of them.
So, how Cloud Computing and Agile complement each other? Well, we should say, in a lot of ways. The specialties of cloud services lie within meeting user requirements rapidly and delivering applications by the expected time. Agile methods, on the other hand, give high credence to user collaboration in requirements discovery. From our previous blogs, you already know that Agile tends to break project requirements in small segments that are achievable. It is easy to maintain the high quality of the deliverable with no bottleneck.
Hence, when you use Agile methodologies in a Cloud Computing, it produces a highly interactive and collaborative environment. Want to know how it happens? When developers finalize a feature and take feedback for it, the entire cycle usually turns into a lengthy one mostly because of communication gaps. With the combined help of Agile and Cloud Computing, the developers can push the feature as a cloud service and the users can review it immediately and provide valuable feedback while completely eliminating the lengthy feedback cycle.
There are many other perspectives as well in which Agile and Cloud can work hand in hand. Let us show you some.
Organizational Perspective:
Suppose you are going to implement Cloud Technologies in your organization. Before doing that, you need a plan that will tell you what exactly you want your users to achieve within the cloud. You can easily draw a high-level picture of that with the help of 3 main Agile methodologies: transparency, inspection, and adaption.
To apply the same, you need to keep an eye on the behaviors and functionality of your organization early. In this way, you can adapt to their requirements and be a help so that they have an understanding of what they exactly want to achieve with Cloud Technologies. It makes the development process transparent as the early check acts as an inspection element.
Some of the benefits of the entire procedure are as follows:
It allows the organization to be more responsive to the requirements

It reduces the demand for change control and delivering to a fixed scope that is highly administrative.
Change In Management Perspective:
When it comes to implementation, Cloud is not just a technology. Neither is Agile just a set of principles or methodology. It is a huge organizational change. And with an organizational change, the change in management comes handy. Don't you think?
According to an article by Forbes, "The key to success in this new climate isn't about technology, it's about management vision. The organization — and its leaders — need a forward-thinking, entrepreneurial culture that capitalizes on this computing power. Organizations that are restrictive, risk-averse and hierarchical are likely to find themselves overwhelmed and flying blind, forever fighting an endless battle to gain control over fast-changing technology forces."
Having an Agile mindset changes the controlling nature of the management and can nurture the entrepreneurial culture that can deliver impactful changes via cloud adoption.
Here are a few other benefits of that as well:
Organizations are comfortably moving away from a control mindset

Learning to fail fast and gain organizational learning that is critical for the advancement of technology leaves room for innovation

Smaller teams with more autonomy and fewer management results in more and more efficiency

Change in processes along with iterative development speeds up the delivery

Agile and Cloud together helps in delivering value earlier in the development chain
Technical Perspective:
The last one, but probably the most important one. One of the major concepts in the industry that helps Cloud to lend itself well to an Agile approach is Infrastructure as Code (IaC).
IaC is the process of managing and provisioning computing infrastructure via code, rather than physical hardware configuration or the use of interactive configuration tools. This is around the automation of deployments of infrastructure which has been made possible with the growth of Cloud Computing.
Since infrastructure is being managed through codes more frequently, applying Agile methodology in this makes a lot of sense.
This allows cloud infrastructure deployment to be done in a similar way to software delivery, something that is impossible for traditional infrastructure.
Conclusion:
Although, there are still some organizational hurdles to apply all of it in real. But once you get a hold of it, we bet you won't be able to think of a cloud environment without Agile methodologies in it. In global organizations, software developers are already working at multiple dispersed sites and using a vast number of agile and cloud development tools and processes. If you want to be one of them, you need to know all about Agile and Cloud Computing. How to do that you may wonder?
Simple! Join our training sessions, and build your organization's backbone by combining these 2 much-adored sidekicks!
Topic Related Post
About Author
If you are looking forward to reading some high ended cloud computing blogs, hers are the ones you should look up to. With an experience of over 20 years in cloud computing, she is well aware of the features of AWS, Microsoft Azure, and Google cloud which gets reflected in her writings. Her articles are the mouthpiece of the cloud world that speaks to us regarding the cloud trends as well as the real-life scenarios of a cloud environment. Her experience in cloud consulting and implementation plays a huge role in her write-ups and the professionals end up getting just the solution they need.