 Arul Nair
Last updated 10/10/2023
---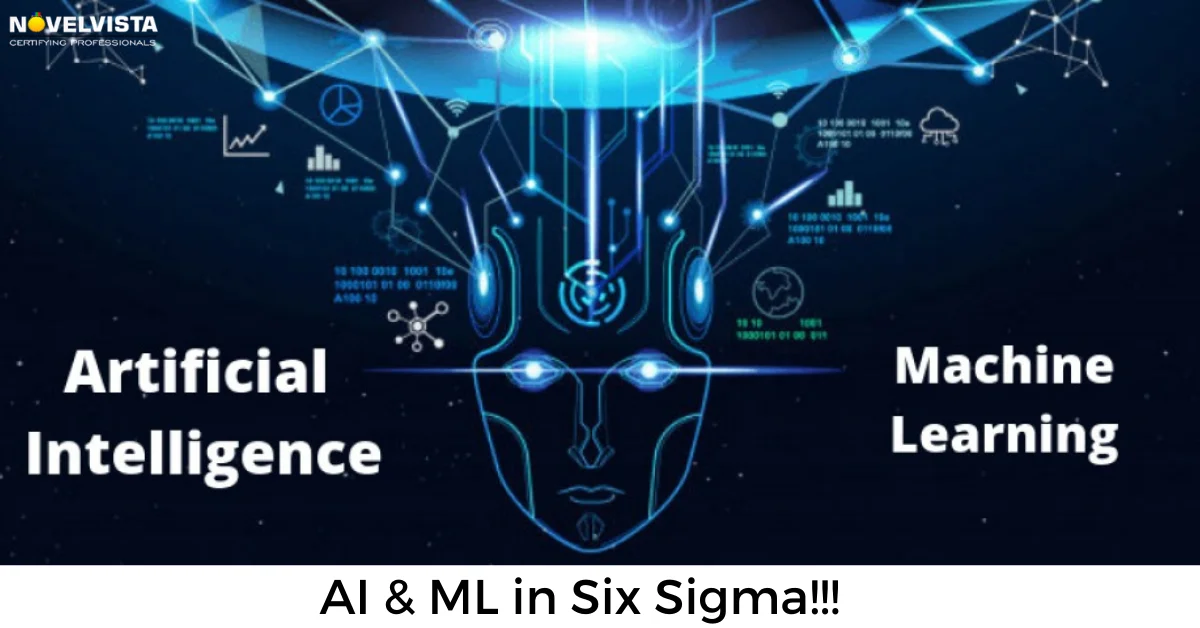 So 2022-23 has accelerated the usage of AI and ML in so many ways, and in so many organizations.
Chatbots and ChatGPT are servicing customers, robots are checking the temperatures of patients and many more.
But AI and ML with Six Sigma? It sounds like we are Godfather and Ironman together. Isn't it? One has been in our hearts for ages with his old-school ways of justice and weapon, and another one just swooped in with his ultra-modern technologies just about 12 years ago.
But let me tell you, it IS possible!
How?
We are going to tell you just that in this blog.
AI and ML have been around for quite some time now. But if we want to put a mark on the exact date, then I'd say it would be the year 2015. According to Bloomberg's Jack Clark, the number of software projects that use AI within Google increased from a "sporadic usage" in 2022 to more than 2,700 projects.
But that was just the beginning. After that, AI and ML have conquered so many areas together. In the Six Sigma world conference that is going to take place in 2021, Adam Gilley, a financial consultant with Intuit in Orlando, Florida, is going to present an article about the impact of AI in Six Sigma. Before we go deep into that, let's start with the potential of AI and ML. Shall we?
Machine Learning And Artificial Intelligence Future And Potential:
As we discussed earlier, 2022-23 had some greater future destined for AI and ML. In fact, sectors that weren't thinking of implementing AI in near future, most of them were forced to implement it for the sake of low manpower and workforce strength. To accelerate this progress, Tesla founder and tech giant Elon Musk has recently donated $10 Million dollars to fund ongoing researches of OpenAI so that the implementation of AI and ML becomes smooth and the solutions through it come in handier.
Let's look at how Machine Learning and Artificial Intelligence's future can create an impact on every sector:
1. Transportation:
In March 2019, BMW launched an advertisement that announced regarding autonomous driving. And now in the US streets, their iNext SUV is running wild and free. And very soon, BMW is going to come up with iNext EV, an all-new level 3 automation based self-driving vehicle in 2022 and 2023.


2. M

anufacturing:
AI-powered robots will be working as sidekicks of humans to reduce manual labor. On the other hand, predictive analysis sensors are making sure of the fact that all the equipment run smoothly.


3. Healthcare:
During the COVID pandemic, AI-powered robots were being used to check the temperature of patients and basic diagnosis. Healthcare professionals are planning on continuing this practice in the future as well. Apart from AI-powered Robots, virtual nursing assistants will be monitoring patients and Big Data analysis is going to help in creating a more personalized experience.


4. Education:
Textbooks will be digitized with the help of AI for starters. And with the blended learning structure coming on board slowly, early age virtual instructors will be training humans. Through facial recognition, AI will help in determining the state of mind of the student as well so that the teachers can analyze whether the student is bored or interested and evaluate their performance according to that.
So that was all about the future of Artificial Intelligence and Machine Learning. Now, let's have a look at the ways they can help Six Sigma out!


Future Of AI In Six Sigma:


Well, we don't need to explain to you what Six Sigma is again, do we?
By now we all know all about both Six Sigma and Lean Six Sigma. Lean Six Sigma is basically a time-tested problem-solving approach. In which industry it can be used?
Well, that's surprising! Every possible industry you can imagine, are eligible to apply Six Sigma methodologies for process improvement!
Be it transportation, manufacturing, healthcare, or education, Six Sigma is literally everywhere!
But how does AI really help Six Sigma? Well, it's throughout the DMIAC cycle.
While artificial intelligence (AI) has additionally been practically speaking for quite a while, it is quickly turning into an innovation whose opportunity has arrived, and it is exhibiting extraordinary incentive across numerous businesses and applications. Lean Six Sigma is one of those applications that is profiting by AI. Machine Learning (ML) is being utilized to rapidly distinguish designs in complex frameworks and datasets that customary examination will just miss.
Also, Natural Language Process (NLP) is another useful asset in the AI toolbox that is offering significant worth and experiences to the customary DMAIC techniques. NLP can be utilized to get another viewpoint from unstructured information; like Voice of Customer (VoC) and Voice of Process (VoP) data sources, and utilizing web-based media can give bits of knowledge that would somehow have been missed.
AI Can "Turbocharge" Lean Projects
In a segment for McGraw Hill, Michael George, CEO of AI Technologies, said that the utilization of AI joined with Lean is vital "to keep American assembling and designing serious on the planet market." He composed that AI can "turbocharge" Lean.
During the data collection and analysis segment of ventures, George contended AI can recognize regular examples in non-assembling applications, for example, item improvement and task the executives. "Man-made intelligence yields more prominent decrease of cost and process duration than was conceivable with just Lean Six Sigma to accomplish upper hand," he composed.
Machine Learning and AI especially become possibly the most important factor in complex circumstances. In a model distributed on LinkedIn, AI is required when there are countless key cycle boundaries, numerous obscure boundaries, or if boundaries change over the long run. Once more, it's the capacity to rapidly break down immense measures of complex information that makes AI basic on these occasions.
In the model from LinkedIn, a medicine company that conveys medicine to treat ongoing infections needed to foresee which persistent illness patients were well on the way to quit taking prescription. By utilizing AI, the organization had the option to effectively discover notice signs in tremendous patient informational collections and improve persistent adherence to their medicine taking timetable.


Conclusion:
So what do you think? Godfather and Iron Man can work together. Right?
If you want to have an in-depth view of both the world, apply for our Machine Learning and Six Sigma courses!
Topic Related Post
About Author
With an experience of 12 years of quality management under his belt, he has been the keynote speaker at a vast number of webinars. He has been delivering knowledge to corporates through his work for a long time. He holds cutting-edge expertise in Six Sigma Consulting & Implementation, Process/Service Improvement Using Lean Six Sigma, Process Definition, Implementation & Compliance, Process Hygiene (ISO 20000), Quality Assurance and Program Governance. When it comes to content development, he brings a unique blend of creativity, linguistic acumen, and quality management knowledge to his readers in the technology space.