Vikas Sharma
Last updated 11/09/2023
---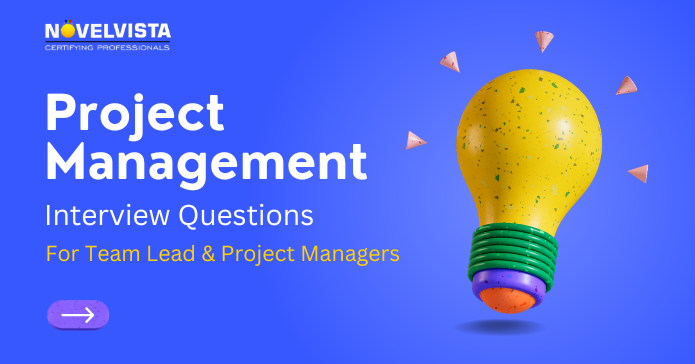 Project management is the process of planning, organizing, and managing resources to achieve specific goals. It involves the application of skills, knowledge, tools, and techniques to meet project requirements.

Project management is essential to ensure effective and efficient project delivery. It helps organizations to achieve their objectives, and complete projects on time, within budget and scope.

Effective project management ensures that projects are delivered to the satisfaction of all stakeholders.
So, let's dive in and ensure you're ready to impress those hiring managers with your project management skills:


Top 25 Question and Answers for PM Interview

1. In your experience, what skill do you consider most essential for achieving success as a project manager? Can you share a couple of instances from your previous projects that highlight this skill?

Answer: The most essential skill for a project manager is effective communication. Clear and timely communication fosters collaboration, keeps stakeholders informed, and prevents misunderstandings. In my previous projects, this skill has proven invaluable. For example, in Project A, I regularly held status meetings, ensuring everyone was aligned on project goals. In Project B, I used a detailed communication plan to keep remote team members engaged and informed.


2. What methods do you employ to establish the boundaries and objectives of a project?
Answer: I use a combination of techniques like brainstorming sessions, stakeholder interviews, and a project charter to define project boundaries and objectives. This helps ensure that all stakeholders have a clear understanding of the project scope and goals from the outset.


3. Could you outline the approach you take when forming teams in project management?
Answer: Team formation is critical. I begin by identifying the required skill sets and expertise for the project. Then, I assess team members' availability and preferences. Finally, I consider personality traits and communication styles to ensure a cohesive and high-performing team.


4. Can you distinguish between project monitoring and project controlling?
Answer: Project monitoring involves tracking project progress and performance metrics. It's about collecting data and ensuring the project stays on track. Project controlling, on the other hand, is about taking corrective actions when deviations from the plan occur. It's the process of making adjustments to keep the project within scope, schedule, and budget.


5. Could you elucidate the distinctions among a Program, a Project, and a Portfolio?
Answer: A project is a temporary endeavor with a specific goal. A program is a collection of related projects managed and coordinated together to achieve strategic objectives. A portfolio is a collection of programs and projects that align with an organization's strategic goals and objectives.


6. Reflecting on your most recent project, what were the communication hurdles you encountered?
Answer: In my recent project, remote team members faced communication challenges due to different time zones. To address this, we implemented regular video conferences, adjusted meeting times to accommodate different regions, and used collaborative tools to keep everyone connected.


7. How do you define a market opportunity within a business plan?
Answer: A market opportunity is a favorable set of circumstances that allows a business to introduce a product or service to meet a specific customer need or demand. It involves analyzing market trends, identifying gaps, and assessing the potential for profitability.


8. What strategies do you employ to establish credibility with development and engineering teams when you're a new product manager?
Answer: Building credibility as a new product manager involves active listening, understanding their challenges, and respecting their expertise. I seek their input, involve them in decision-making, and consistently deliver on commitments to earn their trust.


9. What motivates you to pursue this job, and how does it align with your broader career path?
Answer: I'm motivated by the opportunity to lead and deliver successful projects. This role aligns with my career path as it allows me to apply my project management skills, grow professionally, and contribute to the organization's success.


10. How would you describe the role of Product Managers in your perspective?
Answer: Product Managers play a vital role in bridging the gap between customer needs and product development. They define product vision, set priorities, and work closely with cross-functional teams to ensure the product meets customer expectations and aligns with business goals.


11. Share your strategies for maintaining team motivation.
Answer: I maintain team motivation by setting clear goals, providing regular feedback, recognizing and rewarding achievements, fostering a collaborative environment, and addressing any issues promptly. Open communication and support are key to keeping the team motivated.


12. How do you prioritize tasks in your workflow?


Answer
: I use techniques like the Eisenhower Matrix, critical path analysis, and the MoSCoW method to prioritize tasks. These methods help me identify what's urgent, important or can be deferred, ensuring I allocate time and resources effectively.

13. What factors have led you to consider leaving your current position?
Answer: I'm considering leaving my current position because I believe there are limited growth opportunities and a misalignment between my career goals and the organization's direction. I'm seeking a new challenge that better aligns with my aspirations.


14. List some tactics you've utilized to cultivate and sustain strong customer relationships.
Answer: To cultivate and sustain strong customer relationships, I actively listen to customer feedback, personalize interactions, provide exceptional service, resolve issues promptly, and regularly seek their input to improve products or services.


15. Are there specific categories of activities within a project?
Answer: Yes, projects typically involve five categories of activities: initiation, planning, execution, monitoring and controlling, and closure. These phases help ensure a structured approach to project management.


16. Can you explain the concept of plan baselines?


Answer
: Plan baselines are the approved project plans used as a reference point for measuring project performance. They include the baseline schedule, budget, scope, and quality criteria. Changes to these baselines require formal approval.

17. Which knowledge areas are pertinent to successful project execution?
Answer: The Project Management Institute (PMI) identifies ten knowledge areas relevant to project execution, including scope, time, cost, quality, risk, procurement, communication, stakeholder, integration, and human resource management.


18. What does Scope management encompass?
Answer: Scope management involves defining, controlling, and managing the work that needs to be accomplished to achieve the project's objectives. It includes scope planning, definition, verification, and control to prevent scope creep.


19. How does project scheduling contribute to achieving project execution?
Answer: Project scheduling establishes the timeline for project activities, helping to sequence tasks, allocate resources, and set milestones. It ensures efficient resource utilization and enables timely completion of project objectives.


20. In your view, what qualities define a great Project Manager?
Answer: Great Project Managers possess qualities like leadership, communication, problem-solving, adaptability, organizational skills, and a focus on achieving results while maintaining team morale and stakeholder satisfaction.


21. What are the top 3 things in project management?
Answer: The top 3 things in project management are clear communication, effective stakeholder management, and meticulous planning. These are essential for project success.


22. How do you prepare for a project management interview?
Answer: To prepare for a project management interview, I review my past projects, practice answering common interview questions, stay updated on industry trends, and research the company and its projects to tailor my responses.


23. What is the life cycle of a project?
Answer: The project life cycle consists of phases like initiation, planning, execution, monitoring and controlling, and closure. These phases guide a project from inception to completion.
24. What is a RAID in project management?
Answer: RAID stands for Risks, Assumptions, Issues, and Dependencies. It's a common project management tool used to track and manage potential risks, assumptions made during planning, issues that arise during execution, and dependencies on other tasks or projects.


25. What is the primary function of a PMO?
Answer: The primary function of a Project Management Office (PMO) is to provide governance, standardization, and support for project management practices within an organization. It ensures that projects align with strategic goals, maintains project management standards, and provides resources, tools, and expertise to support project managers.


Project Management Job and Salary Statistics for 2024 - 2025
The global project management market is expected to reach $247.9 billion by 2024, growing at a CAGR of 10.2% from 2021 to 2024.
The US is the largest market for project management, accounting for 35% of the global market.

The top five industries for project management are information technology, construction, manufacturing, healthcare, and financial services.

The median salary for project managers in the US is $95,370.
Project managers with a PMP certification earn an average of $16,000 more than those without a certification.
The demand for project managers is expected to grow by 7.2% from 2021 to 2024, faster than the average for all occupations.
If you are interested in a career in project management, there are a few things you can do to increase your chances of success:
Get certified: The PMI offers the PMP Certification, AXELOS offer Prince2 Agile Foundation & practitioner, which is the most widely recognized project management certification in the world.
Gain experience: The more experience you have as a project manager, the more likely you are to earn a higher salary.
Network: Get to know other project managers and build relationships with them. This can help you learn about job opportunities and get your foot in the door.
Stay up-to-date on the latest trends: The project management field is constantly evolving, so it is important to stay up-to-date on the latest trends. This will help you be more marketable to employers.

Summary:

We hope that this list has armed you with the knowledge and confidence you need to tackle your next project management interview with ease.
Remember, interviews can be nerve-wracking, but thorough preparation is your best ally.
Practice your responses, study the concepts, and, most importantly, believe in your ability to shine as a project manager.
The world of project management is constantly evolving, and employers are always on the lookout for individuals who can adapt, lead, and drive success.
So, as you step on your interview journey, keep these questions and answers close at hand.
Use them as a foundation to build your responses, but don't forget to bring your unique experiences, insights, and passion for project management to the table.
Your interview is an opportunity not just to showcase your skills but to demonstrate why you're the perfect fit for the role.
Now, it's time to go out there and ace that interview. We wish you the best of luck in your project management career, and may your future projects be filled with triumphs and successes. also check out Post Graduate Certification Program In Project Management .
Thank you for reading! #HappyLearning
Topic Related Post
About Author
Vikas is an Accredited SIAM, ITIL, PRINCE2 Agile, DevOps, ITAM Trainer with more than 17 years of industry experience currently working with NovelVista as Principal Consultant.