Archana Todmal
Last updated 21/07/2021
---

An overview of who offers you the best of goodies for an e-business.
When you've got an E-business we all have an important question that tickles our mind, "Which Cloud platform to go for?" Well, it is pretty obvious that we always want the best, and we know there are so many cloud platforms available in the market.
Few of the leading ones are listed below:
AWS

Google Cloud Platform

Microsoft Azure

IBM Cloud

and many more
Now that it is clear AWS and Google Cloud Platform are THE most popular cloud computing platforms.
Let's just clear this huge confusion by comparing the 2 GIANTS from the base.
We'll break the comparison into simple modules:
Statistics

Products

Pricing

Bottom-line
Statistics:
Amazon Web Services (AWS) is a subsidiary of Amazon which was launched to provide on-demand cloud computing services to businesses and individuals back in 2006.
Similarly, Google Cloud, a part of Google, is a suite of cloud computing services offered to businesses and individuals which was launched 2 years later in 2008.
Principally, both are the most trending platforms right now many popular brands utilizing them.
Few of them are listed below:
AWS

Google Cloud

1. Netflix

2. Times Inc.

3. NASA

4. Expedia

5. Airbnb

6. Lamborghini

1. HTC

2. Leadpages

3. Heathrow

4. Coca-Cola

5. Evernote

6. Sony Music
We'll know both Google Cloud and AWS are big players in their own right.
Let's dig deeper and see what Gartner analyses: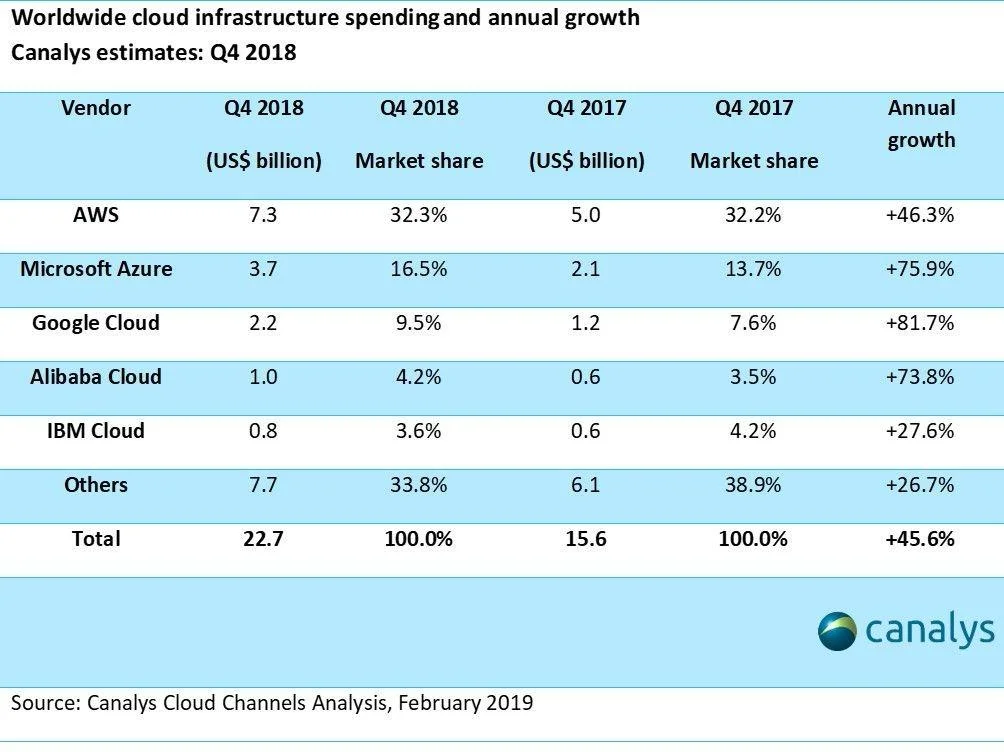 Source: Canalys
Now, let's have a close look at the market share of AWS and other major players:
Source: Gartner
AWS is winning markets since the last few years, while other players, including Google Cloud, started gaining traction off late.
Well, we cannot decide on-basis of few standalone statistics. Many will agree that AWS is one of the oldest players in the game, but Google Cloud is no less than a game changer here.
Google Cloud is relatively new in the market but it may soon catch up and disrupt the industry like anything.
Products:
AWS
Google Cloud

1. Compute
Amazon Elastic Compute Cloud forms a central part of Amazon's cloud-computing platform - AWS by allowing users to rent virtual computers on which they run their own computer applications.

Salient Features:

1. Secure
2. Resizable
3. Huge variety of instances
4. Linux and Windows support
5. GPU instances
6. Autoscaling
7. High-performance computing

1. Compute
Google Compute Engine is the Infrastructure as a Service component of Google Cloud Platform which is built on the global infrastructure that powers Google's search engine, Gmail, YouTube and other services. Google Compute Engine enables users to launch virtual machines on demand.
Compared to AWS, Google's compute engine service has less offerings.
GCP uses mainly two engines:

1. Compute engine
2. Kubernetes engine

Salient Features:

1. Support for both machine types - custom and predefined
2. Per-second billing
3. Windows and Linux support
4. Provides a carbon-neutral infrastructure - consumes half the energy of data centers
5. Free tier for one of micro instance on a monthly basis for up to 12 months
6. Automatic discounts

2. Storage
AWS provides a good number of storage services options which includes:

1. Simple Storage Service (S3) - object storage
2. Elastic Block Storage (EBS) - persistent block storage
3. Elastic File System (EFS) - file storage
4. Storage Gateway - hybrid storage environment
5. Snowball for the physical transfer of data
6. Amazon Glacier for cold storage

2. Storage
Google Cloud also provides a number of storage services options which includes

Cloud Storage stores large unstructured data sets

2.

Cloud Big table is Google's consistent, high throughput, low latency NoSQL data storage

2. Cloud Spanner for enterprise standard relational data storage
3. Cloud Datastore for no relational storage like NoSQL
4. Cloud SQL for MySQL
5. Google Cloud Platform (GCP) using the Nutanix Calm solution for Hybrid operation
6. The joint venture of Cisco and Google Cloud hybrid solution leverages managed Kubernetes, Cisco networking and security, GCP Service Catalog and Istio authentication and service mesh monitoring

3. AWS Machine Learning and AI tools
1. AWS Lambda for serverless function
2. Amazon Redshift provides data warehousing for analytics.
3. Amazon ElasticMapReduce to process large amounts of Data in Hadoop framework
5. Amazon Kinesis to process streaming data
6. Amazon Athena to query data for S3
7. AWS Glue is a fully managed ETL service useful for data analytics
8. Amazon AI suite for voice and chatbot support
9. AWS Deep Learning AMIs
10. Amazon Rekognition for image and facial analysis
11. Supports deep learning development frameworks

3. Google Machine Learning and AI tools
1. Cloud Bigquery
2. Cloud Data Flow
3. Cloud Dataproc
4. Cloud Data Lab
5. Cloud Dataprep
6. Cloud pub/sub
7. Google Data studio
8. Genomics
9. Cloud Machine Learning engine
10. Cloud IoT core
11. Cloud Natural Language API
12. Cloud Speech API
13. Cloud Translation API
14. Cloud video intelligence
15. Cloud Vision API
Pricing:
AWS Pricing
It is high and particularly challenging to understand. AWS offers a cost calculator with multiple variables associated with it which makes estimation difficult.
Google Cloud Pricing
Google offers a customer-friendly pricing tier, which means they beat-the-base over other competitors. They offer huge discounts along with flexible contracts to take down the competitors. Moreover, they charge on an actual usage basis (per-minute basis).
Bottom-line:
Both AWS & Google Cloud are extremely powerful cloud computing platforms. Both are efficient, reliable and perfect for large scale computing. If you're running a data management business then nothing like these, as both AWS and Google Cloud offer wide range of enterprise-grade products and services. AWS offers around 200+ products while Google Cloud offers around 80+ products.
When we talk about an e-business, it's never-ending - CMS, eCommerce, social media, and the list goes on. So which one is a winner, when it comes to comparing Google Cloud vs. AWS? Well, we'd say that both are perfectly imperfect in a retro style.
When it comes to reliability and speed, AWS is definitely one you want to check out! AWS of course also has a long-standing history of providing cloud computing services for businesses and enterprises over the past decade.
They really were the first ones to push the cloud industry forward, and are still the one that providers like Google and Azure are copying. Their support, redundancy, and availability as per different regions is credible.
There are many other products and services and a wide range of features from Google Cloud and AWS which couldn't be covered in this post. Whichever provides utility to your business, it's your preferred vendor.
Conclusion:
Enroll AWS or Google Cloud training certification with ATOs like NovelVista and you can expect to enjoy better employment, have a competitive advantage over other candidates without certification and can vouch for a higher wage if you are applying for a new job!
Topic Related Post
About Author
If you are looking forward to reading some high ended cloud computing blogs, hers are the ones you should look up to. With an experience of over 20 years in cloud computing, she is well aware of the features of AWS, Microsoft Azure, and Google cloud which gets reflected in her writings. Her articles are the mouthpiece of the cloud world that speaks to us regarding the cloud trends as well as the real-life scenarios of a cloud environment. Her experience in cloud consulting and implementation plays a huge role in her write-ups and the professionals end up getting just the solution they need.