Anita Adiraj
Last updated 22/07/2021
---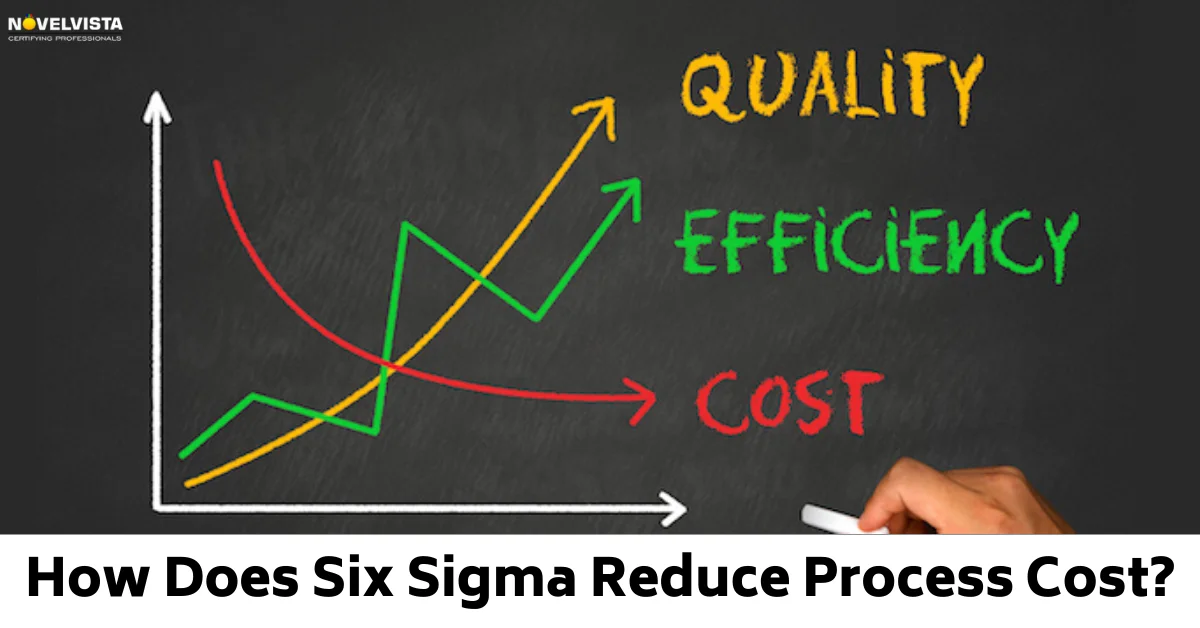 You ever hear people using the phrase "Good old saying"? Well, in the world of Total Quality Management, that "Good old saying" definitely is Six Sigma. Sure, it has been around for quite some time now but hasn't lost its charm even for a bit.
In our previous blog "Top 5 Six Sigma Principles, Benefits and Features", we told you all about Six Sigma in detail. But, how does Six Sigma reduce the process cost really? We didn't talk about that much. So for that, we are going to present some real-life examples in front of you, with the help of case studies where Six Sigma has been implemented.
As a starter, let's mug up our Six Sigma knowledge a little bit, shall we?
The Origin Of Six Sigma:
Six Sigma is a set of practices developed by Motorola. After that, Jack Welch, former CEO of General Electric, implemented Six Sigma throughout his company for the first time. And that came with great results. In fact, the 1997 GE Annual Report states that Six Sigma added $300 million to GE's bottom line. In its first five years of implementation, Six Sigma saved GE approximately $10 billion. Partly due to the notoriety of GE's achievements, the value of Six Sigma training and certification became widely known.
This goes without saying, after this, this concept spread quickly like wildfire to private and public firms in industries such as manufacturing, finance, aerospace, and automotive, as well as in government and military organizations. In finance alone, Six Sigma's methods have been adopted as a proven route to error-free processes and waste reduction. Thus, accountants as well as those preparing to become a CPA, have begun learning this methodology as part of their accounting academia and exam preparation as six sigma has proven to be beneficial for any business entity that entails a product or service.
Advantages of six sigma methodology in cost reduction
Now the question is, how does Six Sigma help companies to reduce process cost? Well, imagine you are buying something plastic, like a small toy. Material is melted and then fed into the injection machine. The melted plastic goes into a mold and solidifies to form the toy.
Can you guess what happens if there is variability in the time that you open the mold? If you open it too early or too late, the product may deform in different ways due to the drastic change in temperature. So both timing and temperature, in this case, are extremely important in manufacturing a product that satisfies the customer.
Depending on the product, there can be anywhere between tens and hundreds of processes. Each process may have its own key points to control in order to reduce variability.
This is why Six Sigma is so important and why qualified inspection and process auditing are often strongly recommended. People can easily be stuck in a rut. And often it takes an outside perspective to point out those areas that may cause issues.
How Ford used Six Sigma Principles to lower costs and improve quality
Well, let's see some real-world figures and case studies here.
You might have heard of Six Sigma stories of Starbucks (Youtube Video) from a lot of people. A few months back, GSDC's blog "5 reasons why Six Sigma is still relevant in 2020" stated the Six Sigma journey of Starbucks in a quite amusing way.
But, what about seeing the numbers going high this time?
In 2009, Ford Motor Company found that basecoat consumption for two models at their plant in Saarlouis, Germany was 3.74 kg/unit in 2007, while current consumption was higher at 4.18 kg/unit. Right here, Ford saw an opportunity of applying the Six Sigma principles to find a solution.
How?
Let's find out!
What are the principles of Six Sigma used by Ford?
In our previous blog "Overview of Six Sigma-Top 5 Principles, Features, Benefits", we have discussed about Six Sigma Principles in detail. Six Sigma principles solely depend on DMAIC methodology that is consist of 5 following steps:
Define

Measure

Analyze

Improve

Control
Define
The "Define" phase of Six Sigma expects to distinguish the key partners included and structure objectives that address the necessities of those partners. When characterizing partners – those individuals by the wastefulness – Ford showed up at three gatherings, comprising of end clients, process owners, paint shop laborers, and others.
Of course, specific goals were set to address the problem.
Here's how:
Reduce costs

– lower production costs by $1.5 million annually by lowering the consumption of paint in manufacturing.

Improve customer satisfaction

– meet customer needs better with a reduction of 127.000 ppm (defective parts per million).

Reduce environmental impact

– lower consumption of certain paint compounds to achieve a 50,000-kg reduction in Volatile Organic Compounds (VOCs).
Measure
The "measure" step in Six Sigma estimates current procedures that identify with your concern or wastefulness. This part is urgent to gathering information uncovering main drivers that can be tended to.
For Ford's situation, they estimated the accompanying basic components:
Daily basecoat consumption

Paint coat thickness

Paint consumption per robot (for automated paint stations)

Consumption per human painter (for manual paint stations)
First-time through rate versus consumption; and

Technical problems with application equipment
Analyze
The "analyze" step plans to decide the root cause(s) identified with the difficulty you need to address, in view of significant information you've accumulated. Ford's group investigated the information gathered when estimating the six factors above and pinpointed one significant contributing element to the issue.
There were two likely main drivers found for overabundance paint utilization during creation as follows:
Higher consumption in robots applying paint to the liftgate.

A fault in the solvent recovery valve of the application equipment. This meant that paint that should have been applied was leaking into the sprayers' recovery tank.
Improve
"Improve" is a stage that centers around discovering answers for or improvement activities to dispose of the underlying drivers discovered during the past advance. The group at Ford discovered they could supplant the computerized procedure of painting lift doors with manual application to tackle the utilization issue there. They additionally discovered four expected answers for development that tended to the entirety of their objectives:
| | | |
| --- | --- | --- |
| Goal | Target | Result |
| Lower costs | $1.5 million annually | $2 million annually |
| Improve customer satisfaction | 127.000 ppm reduction | 129.000 ppm reduction |
| Reduce the environmental impact | Lower VOCs by 50.000 kg annually | Lowered VOCs by 70.000 kg annually |
Replace plastic valves with more durable stainless steel valves

Create an automated system to check valve recovery

Manually check valves weekly; and

Eliminate the solvent recovery process
Following test preliminaries, the group found that supplanting the plastic valves and making the mechanized valve check framework were the two arrangements that best met their objectives. At the point when the progressions were executed, the plant really observed improvement past what they set as focuses on the objectives they set.
Control
The last step in the DMAIC technique for Six Sigma is "control". This progression is basic to keeping up the enhancements acknowledged when actualizing estimated to address the underlying drivers of an issue.
Ford kept on utilizing its new computerized framework to check valve recuperation. They additionally remembered this for the models for ISO 9001 quality system management audits. Routine reviews help to guarantee paint utilization is ceaselessly overseen and inside determinations.
Conclusion
At the point when the significant factors are controlled inside the procedures, your possibility of drawing nearer to the "great" item will be a lot higher. Six Sigma forms permit you to be increasingly sure about the nature of your item. This is particularly significant when an organization's open picture is so critical to the purchaser.
In Ford's model, the plant had the option to decrease costs identified with squander, lessen the imperfection rate, and diminish their condition sway. They achieved the entirety of this by putting a Six Sigma philosophy to rehearse.
Hopefully, you are all clear about how Six Sigma reduces process cost? Now. to implement Six Sigma methodologies in your organization, you need to know all about it in detail. Right?
So here is a link to our Six Sigma training and certification programs. Hope to see you there pretty soon!
Topic Related Post
About Author
She is the most experienced person in our writer?s forum. Her write-ups about IT Service Management have been the favorite ones of our readers in the past years. Amruta has worked closely with a lot of big farms and showed them how to utilize the ITIL framework to an organization?s supply chain management fruitfully. Her work areas mainly include ITIL Consulting & Implementation, GAP Analysis, ISO Audits, Process/Service Improvement Using Lean Six Sigma, Process Definition, Implementation & Compliance, Process Hygiene (ISO 20000), Quality Assurance & Program Governance.