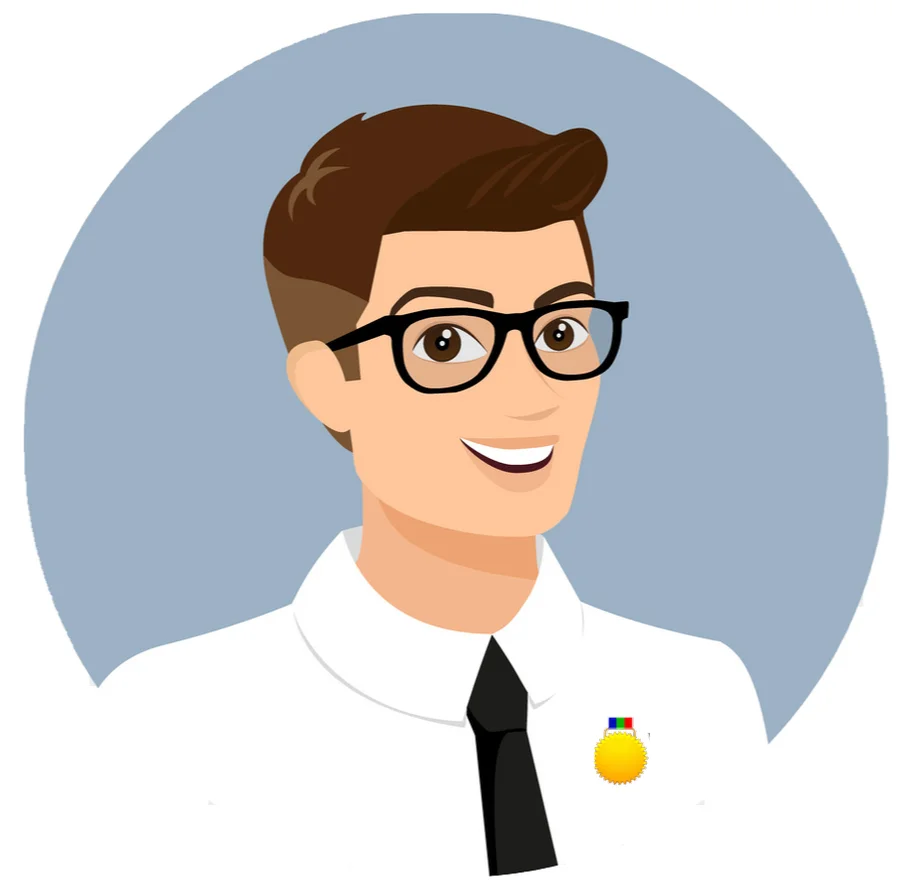 NovelVista
Last updated 21/07/2021
---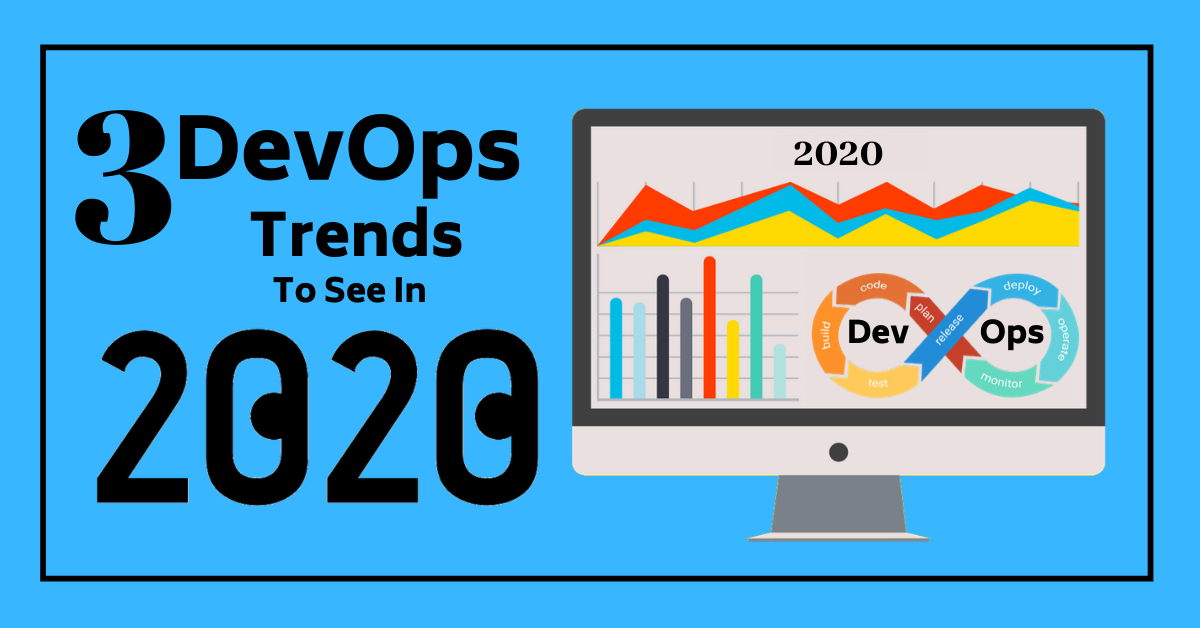 We always get excited when we hear the word 'Trends'. Isn't it?
And when this trend is about the most trending culture DevOps, then you just feel like sitting back with some fries and coke while you go through it thoroughly.
DevOps has made a super drastic change through previous years. The origin of the DevOps concept goes way back in 2008, when Belgian consultant, project manager, and practitioner PatricDebois and Andrew Clay Shafer, The Vice President of transformation at Red Hat, were having a discussion about the concept of agile infrastructure. Then, the idea started to spread when the first event of DevOpsDay was held in Belgium.
It's astonishing how DevOps has flourished in just 10 years. From being just a topic of discussion to become an entire culture, it has come so far. From a report of statista, from back in 2018, we can see that only 9% of organizations didn't apply DevOps to their culture.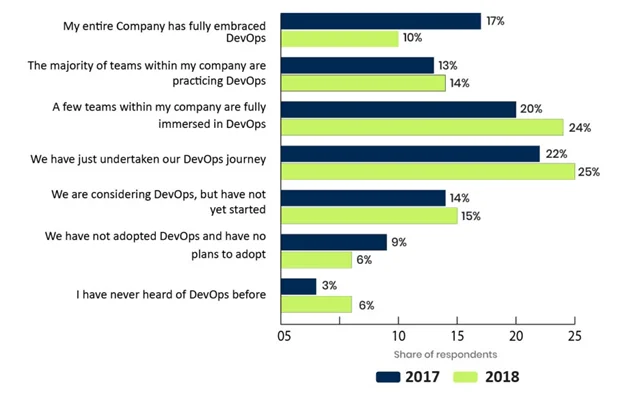 Source: statista.com
But, what is the DevOps future in the IT industry? What does the DevOps market trends have in store for us?
In this blog, we are going to tell you all about what you should expect for DevOps in 2020. Make sure you imprint each of it in your brain and see that happening in real!
Though we bid goodbye to the year 2019, we can't be enough thankful to the gifts it has spread in the DevOps field. Over the past year, DevOps was successful in increasing focus on continuous delivery, generalizing micro-services and many more. So this is quite obvious that DevOps trends 2020 is going to surprise you in a greater way. Let's check out what they are, shall we?
1. Continued interest in Cloud-centric tools:
Cloud computing and DevOps- both have been playing their roles in their field for a long time for our betterment. And DevOps scopes of 2020 lies within combining them together.
Josh Komoroske, senior DevOps engineer at Stackrox stated, "In 2020, we expect to see the continued and increased adoption of Kubernetes for organizations to deploy services." Kubernetes is an application that provides a platform for automatic deployment, scaling, and operations. By this, you can understand how DevOps is going to develop a continued interest in cloud-centric tools.
Just as DevOps culture will start getting adopted with various tools, these technologies will start getting adopted will help to enable ongoing cultural shift and processes in the coming year.
2. Shifting attention from CI pipelines to DevOps attention lines:
If there is no continuous delivery process, then there is no point in continuous integration. That is why DevOps set its final goal to the improvement of the collaboration process between planning and the automation of delivery. According to DevOps market trends, companies are putting extra efforts to understand the connection between the automation and the delivery process.
This connection is broadly known as DevOps attention line. Here are few things about DevOps attention line which can create an impact on the continuous delivery process:
Powerful nested visibility

Native integrations

Fast onboard and scale with "as-code" philosophy

Perfect CD (continuous delivery) with interoperability

Team-based business intelligence and analytics
If you think this is going to save you some time, you are absolutely right about it!
3. Automation through AI and Data Science:
This DevOps latest trend is especially for those organizations that have already implemented DevOps and started working on it for quite some time.
DevOps future trends include complete zero-touch automation. In case you don't remember the 6 C's of DevOps cycle, then let's revisit them once. They are:
Continuous business planning

Collaborative development

Continuous testing

Continuous release and deployment

Continuous monitoring

Collaborative customers feedback and optimization
Once you understand all the steps of this cycle, you can apply automation between these cycles.
Not only this, various applications are being accelerated with the help of AI, leaving room for DevOps teams to seek automation possibilities to discover prospects to their workflow streams.
An analysis of ImpactQA says DevOps projects got more exciting with the help of chatbots in 2019. You can imagine what rapid growth will 2020 bring with the above discussed, then!

Summary:
There are many more DevOps trends along with DevOps adoption statistics for 2020. But, we only fetched out the ones that are going to happen for sure!
So many forum discussions of 2019 raised a question, is DevOps the future? We hope you understood by going through this article that this question is absolutely null and void when it comes to DevOps.
But, if you want to utilize these trends to the fullest, you have to learn all about DevOps first for sure. Once you take a DevOps training and start mastering the art of DevOps, then only you can prove it with confidence, "Yes, DevOps is the future".
Have any DevOps queries in mind? Or a blog related to DevOps you want to read about? Don't forget to mention it in the comment section. We would be more than happy to serve you with a more enjoyable DevOps treat!
Topic Related Post
About Author
NovelVista Learning Solutions is a professionally managed training organization with specialization in certification courses. The core management team consists of highly qualified professionals with vast industry experience. NovelVista is an Accredited Training Organization (ATO) to conduct all levels of ITIL Courses. We also conduct training on DevOps, AWS Solution Architect associate, Prince2, MSP, CSM, Cloud Computing, Apache Hadoop, Six Sigma, ISO 20000/27000 & Agile Methodologies.