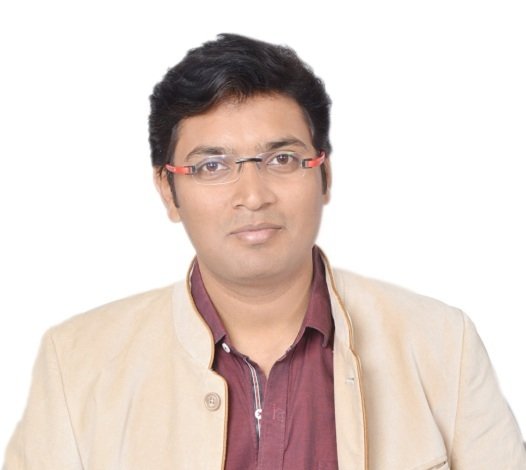 ITIL is a framework consisting of best practices and processes that can be adopted in order to provide IT service management (ITSM)
In today's digital era we know that every business has a dependency on Information technology and IT and IT service management is a serious job because all your people, processes and business depend whether you have IT organization, manufacturing or banking. That's where ITIL is considered to be the perfect and most recommended framework to manage your services.
What is the name of updated ITIL4?
The updated ITIL framework will be called ITIL4. This name reflects the role ITIL4 will play in supporting individuals and organizations to navigate the Fourth Industrial Revolution.
Difference between ITIL v3 & ITIL4
In an ITIl v3 we learn that updated ITIL is more suitable for the current business environment or requirement because it has some strategic elements so that the IT service management is run along with business requirement.
On the other hand, ITIL4 is aligning with frameworks like DevOps, Agile and Lean by integrating this framework with the traditional ITSM practices to fill the gap between operational and organizational objective.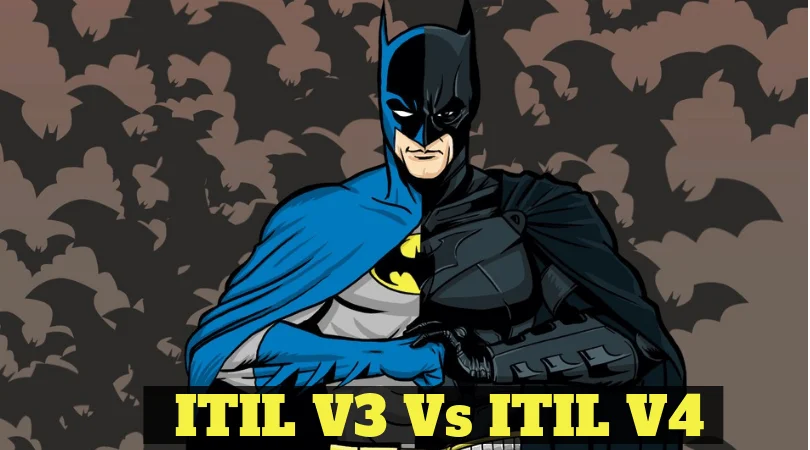 The Difference in ITIL v3 & ITIL4 core Values
ITIL v3

ITIL4

More service-oriented

(Lifecycle approach to service management)

Offers organized structure that adds flexibility

ITIL 4 is to provide organizations with comprehensive guidance for the management of information technology in the modern service economy.

Focuses on the full lifecycle of services, covering the entire IT firm and Clearly defines the roles and responsibilities, and reasons the role of communication in the entire lifecycle

Provide an end-to-end IT/Digital Operating Model, covering the full delivery (and sustaining) of tech-enabled products and services, guiding how IT interfaces with, and even leads, the wider business strategy
The difference - Value Vs Value co-creation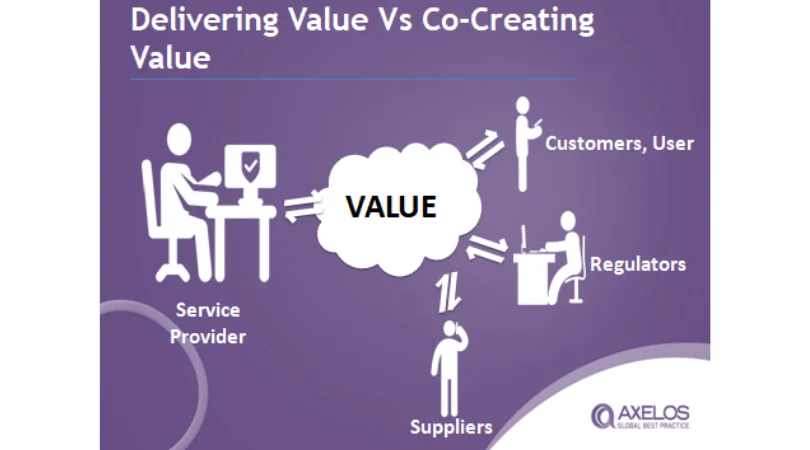 However ITIL 4 insists on changing the definition of Service as means of value co-creation by facilitating the outcomes customer want to achieve without any ownership of cost or risk.
Value Co – creation would not only need Service Provider contribution however equal participation and contribution from Consumers, Regulators and Suppliers.
Difference - Service lifecycle Vs Service Value System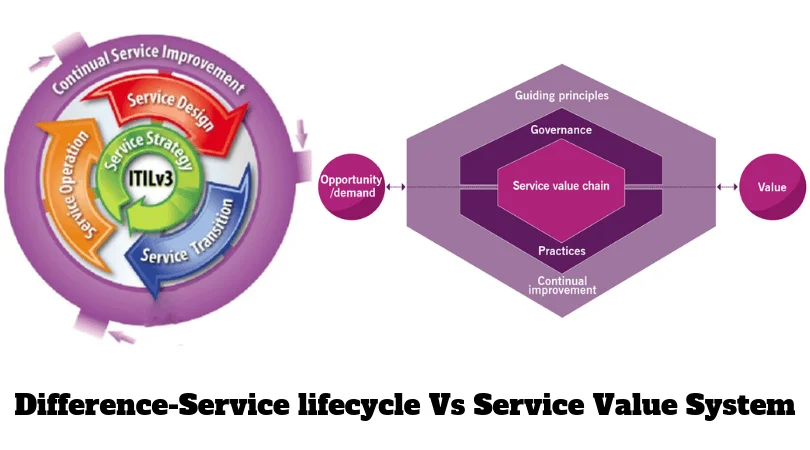 Service Lifecycle
Service lifecycle covered five stages of service lifecycle in ITIL V3 2011. It followed more of a waterfall method. Service Strategy followed by Service Design, Service Transition, Service Operations and Continual Service Improvement.
As these lifecycle stages were often handled by separate teams and activities performed separately, it created Silo environment. That further increased the cost and slowed down the pace of IT impacting the overall Business.
Service Value System
The ITIL SVS describes how all the components and activities of the organization work together as a system to enable value creation. Each organization's SVS has interfaces with other organizations, forming an ecosystem that can in turn facilitate value for those organizations, their customers and other stakeholders.
Service Value System defines Governance Principles as guardrails/boundaries to help the organization achieve its objectives and continually improve the services by meeting stakeholders' expectations. To achieve set objectives, Organisations would need direction and control. This would be ensured by appropriate Governance.
To achieve set Objectives there is a need to define Service Value Chain, which would further have multiple Value Streams. Practices would be the set of organizational resources required to execute Value Stream activities. Thus SVS would help in eliminating the Silos.
Service Value Chain (V4)
An operating model which outlines the key activities required to respond to demand and facilitate value creation through the creation and management of products and services.
The six value chain activities are:
Plan

Improve

Engage

Design and transition

Obtain/build

Deliver and support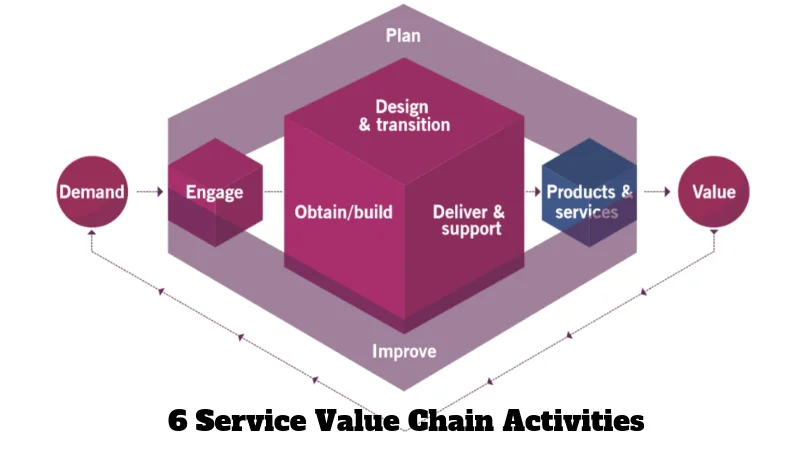 There was no specific guidance about Build in ITIL V3 2011. Service lifecycle missed the guidance for "Build" prior to starting a transition. It created a need for some guidance on "Build". This is when Agile, Lean, DevOps and SRE (Site Reliability Engineering) were adopted by most of the companies, as guidance to address the "Build".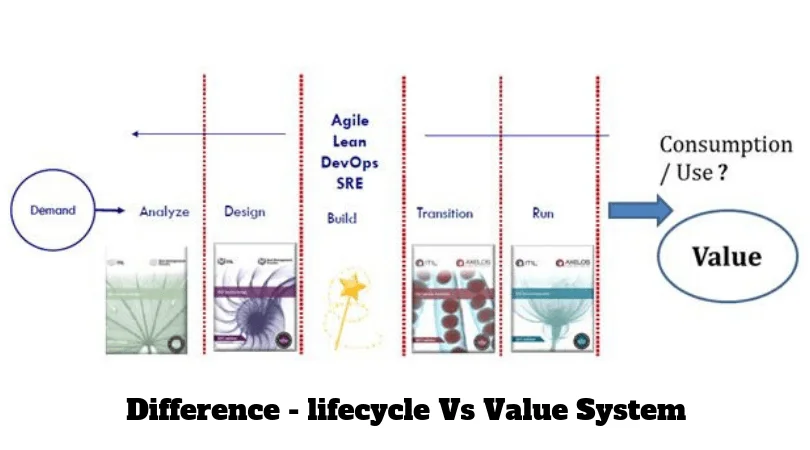 To address these issues raised by Silo culture and for Service Management to function properly, ITIL4 has introduced Service Value System. IT would be interesting to see further guidance from Axelos on integration of ITIL4 with Agile, Lean, DevOps and other practices.
Difference - 4Ps (ITIL V3) Vs 4 Dimensions (ITIL 4)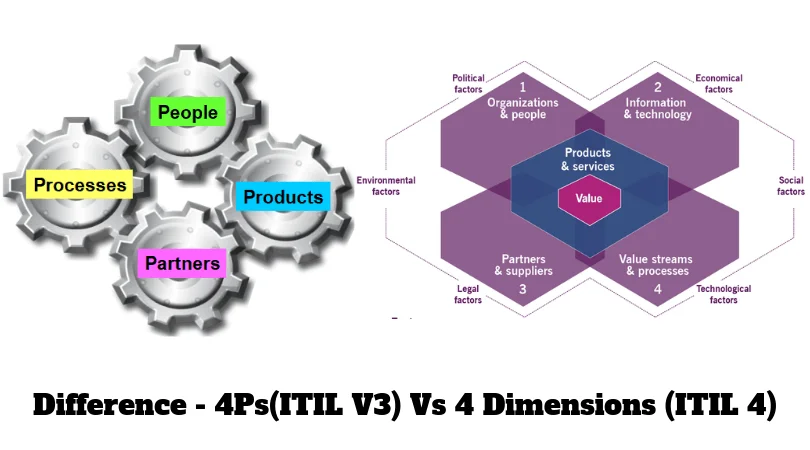 ITIL V3 introduced 4 P's of Service Management
People

Process

Product

Partner
ITIL4 introduced 4 dimensions
Organization and People
Information and Technology
Partners and Suppliers
Value streams and Processes
The difference - Processes Vs Practices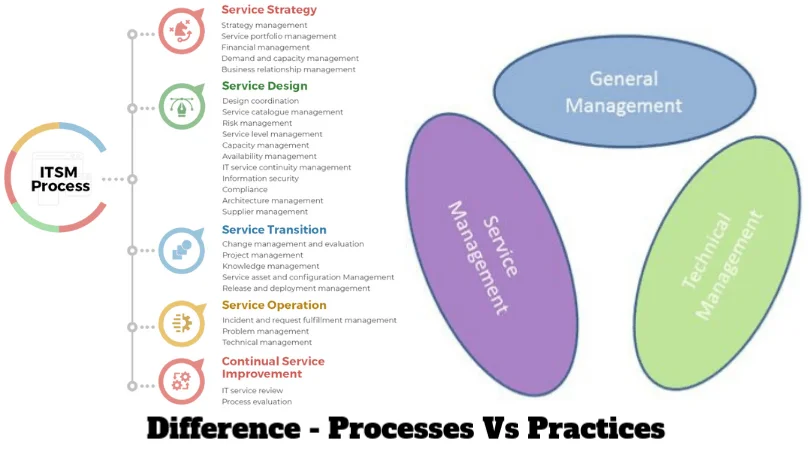 Processes
ITIL V3 introduced 5 phases of service lifecycle and total of 26 ITIL processes and 4 Functions. Focus was entirely on processes and further on only outputs not Outcomes
ITIL4 Practices
As processes were focused on only outputs they could achieve very little. ITIL 4 shifted its focus on capabilities and introduced 34 practices. 14 General Management Practices, 17 Service Management Practices and 3 Technical Management practices.
Difference between ITIL v3 & ITIL4 Certification path?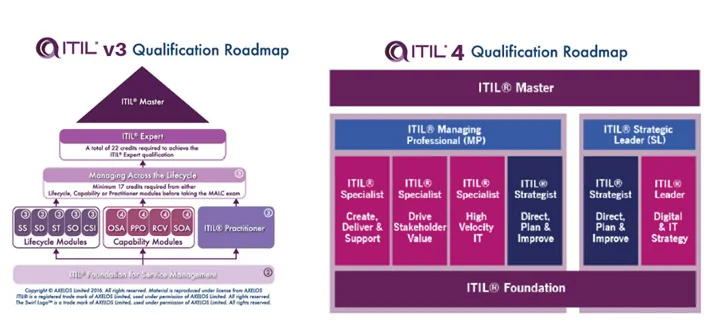 Some questions we received from ITIL v3 Experts and ITIL Practitioner?
HOW DOES ITIL V3 MAP AGAINST ITIL4?
Whilst ITIL4 retains many of the core elements of ITIL v3, and much of the existing guidance will be recognizable in parts of ITIL4, there are no direct like-for-like modules between the two certification schemes
Why ITIL4? Is ITIL v3 failing to do the job?
Let's understand this answer from example, We all use smartphones but after a period of time, we have to change that because your device software lack to support the latest technology ultimately lack to provide full satisfaction to the customer.
This is the same issue some organizations are facing with ITIL v3 but still ITIL v3 is the best and most widely used or recommended framework for ITSM but to align with latest trends or practices like DevOps, Lean and mainly Agile, ITIL creators develop a new framework called ITIL 4 which will satisfy the customer or IT organizations requirements.
Will ITIL V3 certification remain valid?
The most asked question ITIL community asking is are ITIL v3 certification remains valid or not? Do not worry about that because ITIL v3 certifications will remains relevant after version 4 is released. That means ITIL practitioners who are familiar with current ITIL standards can continue to practice.
Note: The present curriculum of ITIL v3 will still remain the same as ITIL4 but ITIl4 is introducing a better examinable content. Most of the content will focus on new best practices and greater integration with other frameworks and systems, which will naturally reflect in the new ITIL4 examination
Why is there no ITIL4 Foundation Transition module?
Due to the structure of ITIL 4 Foundation, there will not be a transition module at the Foundation level. There is a large amount of new material in the ITIL 4 Foundation, therefore, a single exam is required to assess end-learners knowledge of the new ITIL 4 Foundation guidance.
ITIL Practitioner removed from the new certification scheme?
ITIL Practitioner will no longer be a separate module in the ITIL 4 certification scheme, however, the knowledge and principles from the ITIL Practitioner guidance will be fundamental to all modules in ITIL 4. Candidates can also use their ITIL Practitioner credits to continue their ITIL journey. If a candidate has collected 17 credits they will be eligible to take the ITIL Managing Professional Transition Module without taking the MALC exam.
I've just completed ITIL v3 Foundation certification, should I continue on ITIL journey with ITIL 4?

You should continue to achieve ITIL v3 credits under the current ITIL certification scheme now. Once you've achieved 17 credits, you can then formally transition your knowledge to ITIL 4 with the ITIL Managing Professional Transition Module.
How is the ITIL4 Certification path?
ITIL4 Strategic Leader

ITIL4 Master
To obtain the designation ITIL Managing Professional (ITIL MP) or ITIL Strategic Leader (ITIL SL), the professional must complete all modules in each stream, with ITIL Strategist being a universal module for both streams.
Note: If you have any questions on ITIL4 or anything related to that, Please comment your questions below, We will be happy to answer your questions.
Topic Related Post
About Author
Manish has more than 13 yrs of experience in IT Industry and has worked as ITIL Head with expertise in the areas like Enterprise IT Transformation, ITSM, SIAM, Blockchain.