Vikas Sharma
Last updated 08/06/2021
---

"ITAM", "Information Technology Asset Management"
ITAM - Information Technology Asset Managementis set of business practices that facilitate the planning and management of full lifecycle of all IT assets, by aligning financial, contractual and inventory areas. This supports the strategic decision making for the IT environment.
IT assets in above definition refers to all aspects of Technologies that includes software, hardware, People, information, Contracts, Services, etc. used in a business.
IT Asset Lifecycle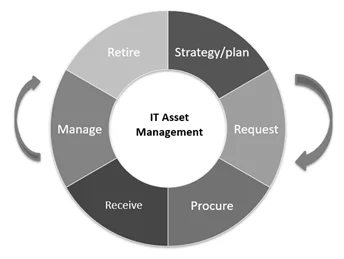 IT Asset Lifecycle has 6 Stages
1. Strategy/plan

Clear understanding of the organisation's vision

Evaluation of Existing Assets

Mapping the usage of assets

Establish and verify business requirements
2. Request

Create a request for IT Asset

Approval of Request

Assignment of Request to the procurement team
3. Procure

Create purchase orders

Pre-defined PO workflow

Link to cost centers for budgets

PO approvals

Post-purchase, adding to the assets inventory
4. Receive

Deploy the assets and change state from inventory to in-use

Discover the assets in the network for software and hardware inventory

Allocate software to a hardware asset

Add relationship maps
5. Manage

Schedule scans and get audit history

Asset Tagging ownership tracking

Software compliance and license management

Asset depreciation calculations

Maintain contracts for assets

Software license agreements are linked to the software

Total cost of ownership of an asset
6. Retire

Change the state of an asset to expired/disposed

All the software allocated to the disposed asset will get un-allocated
ITAM- 4 key asset areas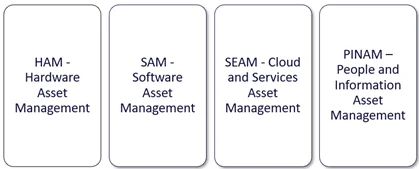 1. Hardware Asset Management (HAM)

Management of the physical components of computers, mobile devices and networks

HAM is tightly connected to SAM as the two asset types cannot be separated
2. Software Asset Management (SAM)

Managing the complete lifecycle of every software asset, involving cost control, documentation, licensing, redistribution, maintenance etc.

SAM is the most crucial as it involves the greatest financial and legal risk in terms of vendor license conditions and complex compliance regulations.
3. SEAM - Cloud and Services Asset Management (SEAM)

Service and Cloud refers to services delivered from a cloud service provider's devices, and includes online data storage, backup solutions, web-based services, hosted applications, database processing etc.

SEAM is the management of the multiple platforms across physical, virtual and cloud environments
4. People & Information Asset Management (PINAM)

The management of People and Information refers to data security, access policies and best practices in regard to knowledge and information sharing.

A key component is increasing the business value of data and information for the right people at the right time in order to ensure an agile and safe workflow and knowledge sharing.
What is Industry Revolution 4.0?
We are at present evidencing the beginning of Industrial Revolution 4.0. Previous Industrial revolutions as shown in the below diagram were
1.0 marked use of Water & Steam
2.0 used Electric Power
3.0 used Electronics and IT
4.0 use of Computers and Automation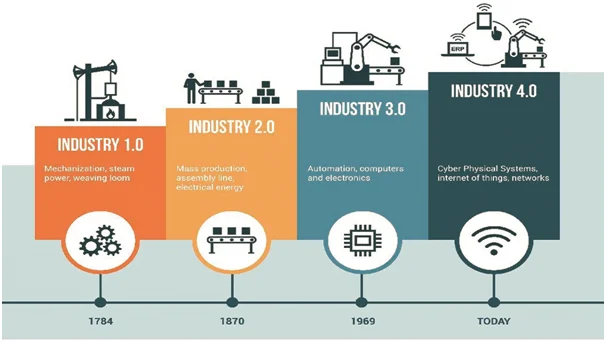 Industrial Revolution 4.0 encompasses the use of various technologies like Internet Of Things (IOT), Artificial Intelligence (AI), Quantum Computing, Biotech, Nanotechnology, Robotics, autonomous vehicles, 3-D printing. Industrial Revolution 4.0 is also referred to as Digital Transformation. Digital Transformation is mainly technology transformation.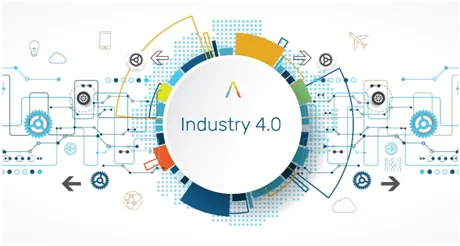 As technology are growing exponentially and changing the entire Business outlook on daily basis.
It has become really very difficult to keep abreast the pace of transformation and cut throat competition in the market. ITAM enables organisations to proactively plan and effectively manage the entire lifecycle of all IT Assets there by also proactively managing the costs associated with IT Assets and Services.
Benefits of IT Asset Management
There are many benefits of ITAMas listed in above diagram. In particular, asset management can help:
Accuracy
Strong IT Asset Management makes it easier to tell when items are lost or stolen and deal with the underlying causesand reduce vulnerabilities. Recovery efforts can also be initiated promptly.
Accurate Forecasting
ITAM helps organisation in maintaining accurate acquisition history that helps in identifying the patterns of demand. As per this demand accurate forecasting would help organisation acquire required assets as and when required. This can provide a basis for predicting IT needs and budgets.
Tracking
IT Asset Management has a complete list what the business owns and leases, including where assets are located, how they are used, and when changes were last made. Such detailed information about IT hardware, software, consumables, etc., provides the basis for the other benefits.
Operational Efficiency
IT Asset management enables a full understanding of IT assets, their capabilities, lifecycle, upgrade expectations, maintenance requirements. And it further helps in answering questions like "What can be leveraged before more spending is considered? What can be eliminated to save money? And thereby helps in realizing operational efficiency.
Maintenance cost reduction
ITAM maintains the entire history of entire lifecycle of IT Assets. It keeps a track of all activities required by different assets at different stages of the lifecycle, so asset management can help ensure corporate requirements are met cost-effectively.
Financial reporting
ITAM keeps the track of entire IT Asset costs. It enable accurate financial reporting thereby raising accurate Invoices for IT Asset Management.
Meeting compliance
Some assets will eventually be redeployed, potentially moving from mission-critical application to a remote office or other purposes. Others will be sold or scrapped. At all these stages we have to abide by the Law of the Land (compliance). ITAM helps organization in not defaulting any compliance mandates, thereby avoiding legal penalization.
Where is ITAM in Organization Picture ?
To ensure the ITAM workflow is effective, it is crucial to understand the responsibilities and key roles in the ITAM ecosystem, both internally and externally. ITAM ecosystem is shown as below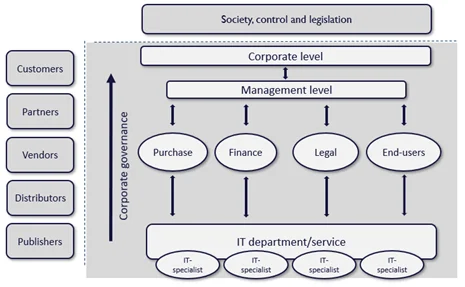 IT Asset Management ecosystem is a complex set of relationships between parties taking part in IT Asset Management actions.A successful ITAM program traverses the organisation across departments and functions, involving everyone at some level e.g.:
Management

Legal

Finance

Procurement

End-users

IT operation
Key ITAM roles in the market
ITAM Executive

IT Asset Manager

Hardware Asset Manager

Software Asset Manager

Lead Analyst -SW Asset Management

IT Asset Management Specialist

IT Asset Management Administrator

IT Asset Coordinator

Executive - Inventory & Asset Management

IT Manager - Warehouse Network Infrastructure
Topic Related Post
About Author
Vikas is an Accredited SIAM, ITIL, PRINCE2 Agile, DevOps, ITAM Trainer with more than 17 years of industry experience currently working with NovelVista as Principal Consultant.