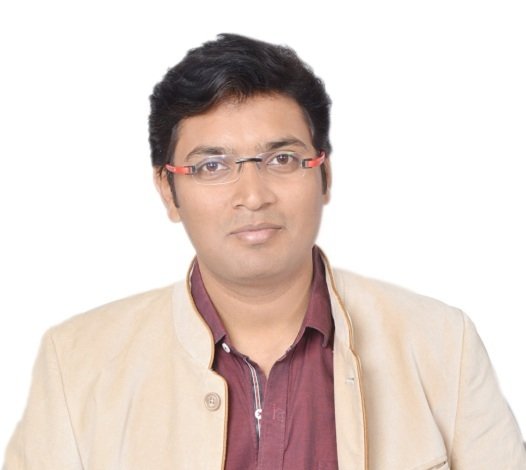 Lets Start with Introduction to ITIL
ITIL stands for IT Infrastructure Library
Initiated by UK Government - the CCTA now OGC
(CCTA – Central Computer and Telecommunications Agency)

(OGC – Office of Government Commerce)
Major contributors
The private sector - Inputs are taken from various organizations to develop ITIL

IT Service Management Forum - International Not for Profit promoter
Major Examination Bodies - Peoplecert.
What is ITIL and what does ITIL stand for? Information Technology Infrastructure Library or more commonly referred to as ITIL comprises of the practices need to for IT Service Management or ITSM. Now, your next question-
Why use ITIL Methodology?
It has turned out to be progressively perceived that data is the most essential key asset that any association needs to oversee. Key to the gathering, examination, generation and appropriation of data inside an association is the nature of the IT Services gave to the business.
It is basic that we perceive that IT Services are significant, key, authoritative resources and in this manner associations must put proper levels of asset into the help, conveyance and management of these basic IT Services and the IT frameworks that support them. Notwithstanding, these parts of IT are frequently neglected or just externally tended to inside numerous associations.
Confusion between ITSM & ITIL:
Newcomers or knowledge seekers many times confuse between ITSM and ITIL let's roll out this confusion from your mind before you can read more o ITIL:
ITSM: ITSM is an acronym for Information Technology Service Management, it's simply how you manage the information systems that create and deliver value to customers.
ITIL: ITIL (Information Technology Infrastructure Library) is the most recognized and used framework for ITSM.
The challenges we faced in IT Operation
Because of following challenges in current IT operation everybody moving towards ITIL Methodology
Not meeting SLA

Frequent Major Incidents

Constant Fire-fighting

Infrastructure not capable of absorbing new changes

Unplanned Outages/Security Incidents (Major virus attack)

Process failures

Infrastructure not capable of handling load at peak hours

Unavailability of key business application

Unable to measure the performance of services/process

The team working of trial & error method

Lack of Governance structure
Why is service Management important for IT?
IT becomes increasingly crucial for business

Downtime on IT causes huge business losses (e.g. Users rush to bank branches when ATM was unable to dispense cash.

Organizations want to move towards ZDT (Zero Down Time) for crucial services.

Most of the businesses are going e-way
Why is ITIL so successful? what is reason

itil Becoming More Popular?
1. Vendor-neutral
Vendor neutrality is a business and design approach that aims to ensure broad compatibility and interchangeability of products and technologies.
2. Non-prescriptive
ITIL offers strong, develop and time-tried practices that have pertinence to a wide range of service association. It keeps on being helpful and significant in broad daylight and private areas, inward and outside service suppliers, little, medium and huge ventures, and inside any specialized condition.
3. Best practice
ITIL speaks to the learning encounters and thought the authority of the world's best-in-class specialist co-ops.
What is the meaning of Service in ITIL?
Types of Services:
1. Core Services:
These Services represent the value that customer wants and for which they are willing to pay.
2. Enabling Services:
These are the services which may or may not be visible to the customer.
3. Enhancing Services:
Enhancing services are not essential to the delivery of a core service, and are added to a core service as 'xcitement' factors, which will encourage customers to use the core service more.
What is the meaning of Service Asset in ITIL?
Service asset means resources and capabilities used by a service provider to provide service to the customer.
What is the meaning of Service Management in ITIL?
It is a set of specialized organizational capabilities for providing value to the customer in the form of services.
What is Value in ITIL?
The basic definition of value is like Value means the product or service which fulfills the customer's needs and wants.
In ITIL value means
VALUE = Utility + Warranty 1. Utility - Fit for Purpose 2. Warranty - Fit for use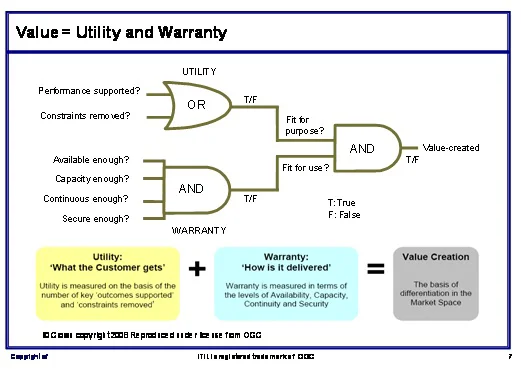 What is Process in ITIL?
The process is organized sets of activities design to achieve a specific objective.
What is ITIL Incident management?
Incident management means an unplanned event in the process which leads to disruptions of the process.
For better understanding let's discuss an example suppose in an organization on working hours a hardware went off and it leads to disruptions of service. That's called an incident but in case a hardware failure has occurred in non-working hours that means no disruption of service, that does not mean it's an incident.
What is ITIL Event Management?
In ITIL event management is defined as the process that manages IT-related all events that occur through IT infrastructure. An event means notification created by IT service, config team or monitoring tool and the whole purpose of event management is to detect events, inspect and roll out right control action.
What is ITIL Problem Management?
Problem Management means the root cause of the event which leads to disruption of service.Many people think that incident management and problem management are same, but it's the opposite of the same. Incident means event and problem means root cause of the event. On the part of discussing example, the root cause of hardware failure is the problem.
ITIL Certification Levels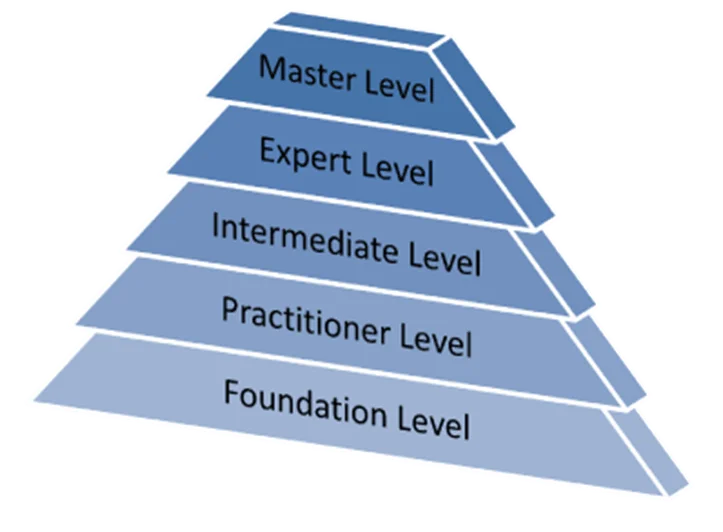 1. ITIL4 Foundation Level:
The Foundation level is the section level affirmation which offers you a general familiarity with the key components, ideas and phrasing utilized as a part of the ITIL service lifecycle, including the connections between lifecycle stages, the procedures utilized and their commitment to service management rehearses.
2. ITIL Practitioner Level:
The Practitioner level is the following stage in the ITIL plot. It has been produced to give a stage amongst Foundation and the Intermediate Level and means to enhance the capacity of people to receive and adjust ITIL in their associations.
3. ITIL Intermediate Level:
The Intermediate level accreditation has a secluded structure with every module giving an alternate spotlight on IT Service Management. You can take as few or the same number of Intermediate capabilities as you require. The Intermediate modules broadly expound than the Foundation level and Practitioner and give an industry-perceived capability.
4. ITIL Expert Level:
The ITIL Expert level capability is gone for the individuals who are keen on showing information about on ITIL Scheme completely. The endorsement is granted to applicants who have accomplished a scope of ITIL affirmations and have achieved a balanced, unrivaled learning and abilities base in ITIL Best Practices.
5. ITIL Master Level:
To accomplish the ITIL Master confirmation, you should have the capacity to clarify and legitimize how you have by and by chosen and connected a scope of learning, standards, strategies and systems from ITIL and supporting administration procedures, to accomplish wanted business results in at least one functional assignment.
Who should go for ITIL certification?
IT professionals

Business managers

Business process owners

Database Administrators

Delivery Professionals

IT Maintenance

Software Testers
ITIL 4 Qualification Scheme:
Cost of ITIL Certification in India:
( All the above cost are standard prices, you can get the discounted pricing by reaching us )
What salary do you get if you have ITIL Certification?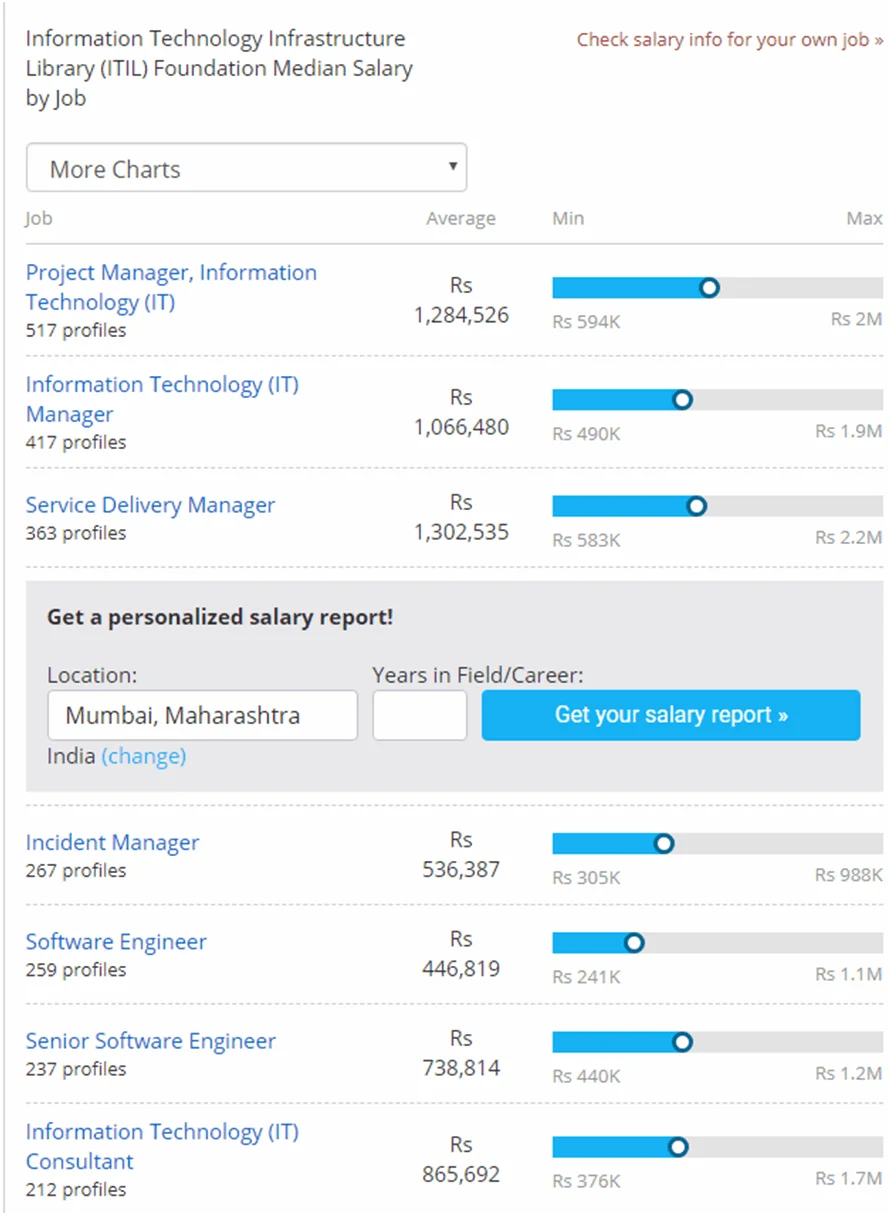 Top 10 Benefits of ITIL Certification
Organizational Benefits of ITIL Implementation:
Improve resource utilization

Be more competitive

Decrease Rework

Eliminate redundant work

Improve upon project deliverables and time

Improve availability, reliability and security of mission-critical IT services

Justify the cost of service quality

Provide services that meet business, customer and user demands

Integrate central processes

Document and communicate roles and responsibilities in service provision

Learn from previous experience

Provide demonstrable performance indicators
( Best ITIL Implementation guide in 7 Easy Steps)
Benefits of ITIL Certification for Individuals:
1. Expertise Recognition:
Once ITIL course and certification added to your skills, then you are perceived for the ability and aptitudes in dealing with the administrations in your association. Both your senior initiative in the association and your partners would value your capacity to deal with the administrations and procedures successfully.
2. Acknowledge Common Terminology:
Since ITIL course gives knowledge into the ITIL structure, you could become more acquainted with the wording that is normal crosswise over businesses and nations. Along these lines, you talk a typical dialect with an assortment of clients.
3. Comprehensive View:
With the ITIL course, you become more acquainted with the fitment of business with IT administration and foundation. Along these lines, you get the chance to comprehend the 10,000ft view and subsequently make a significant commitment to the association which thusly makes you a much looked for after representative in the organization.
4. Better Monetary Returns:
After you have gone to the ITIL course, If you have finished the certification as well, you have better occupation prospects. Contrasted with other non-guaranteed hopefuls, you have an edge in the ITSM circle. In addition, as an affirmed ITIL proficient, your compensation scale likewise gets a generous hop.
5. Better Productivity:
It teaches you the best practices on how to increase the business productivity effective by using best practices under ITIL Methodologies.
6. Value-Based Working Approach:
Help professionals to work purely focused on the needs of the customer and user experience because in conventional method all the force was used to solve the technical issues.
7. Increase your standing in an Organization:
Globally certified with upgraded managerial and technical skills will ultimately be reflected in your performance and result will you will stand out from rest of your peers.
8. Think Out of the Box:
The ITIL preparing plan urges individuals to consider better approaches for working and methodologies for enhancing consumer loyalty. ITIL is intended to enable everybody to concentrate on the requirements of the clients and client to encounter as opposed to focusing a lot on the innovation issues while drawing in with clients
9. Build Trust:
Maintaining better service management helps people to concentrate more on what customer needs and delivering the business outcomes.
10. Low-Risk Effort:
Ordinarily, in your career, it can be something to be thankful for to make a stride back and re-assess some of your objectives and current endeavors to check whether you have to settle on any moves or choices that will influence you in the long term. Speculations, like going for a Master's degree or getting an accreditation, can be unnerving, in light of the fact that you frequently simply don't know whether you hazard sitting idle and exertion on something that may not be all the useful to you in the long-keep running of your expert profession.

Summary:

ITIL 4 serves as a powerful tool for organizations seeking to establish a robust IT service management framework. By embracing its fundamental insights and best practices, businesses can unlock numerous benefits, including improved service quality, increased operational efficiency, enhanced customer satisfaction, and a competitive edge in the dynamic landscape of today's digital world.

Topic Related Post
About Author
Manish has more than 13 yrs of experience in IT Industry and has worked as ITIL Head with expertise in the areas like Enterprise IT Transformation, ITSM, SIAM, Blockchain.