 Vijay Tiwari
Last updated 23/07/2021
---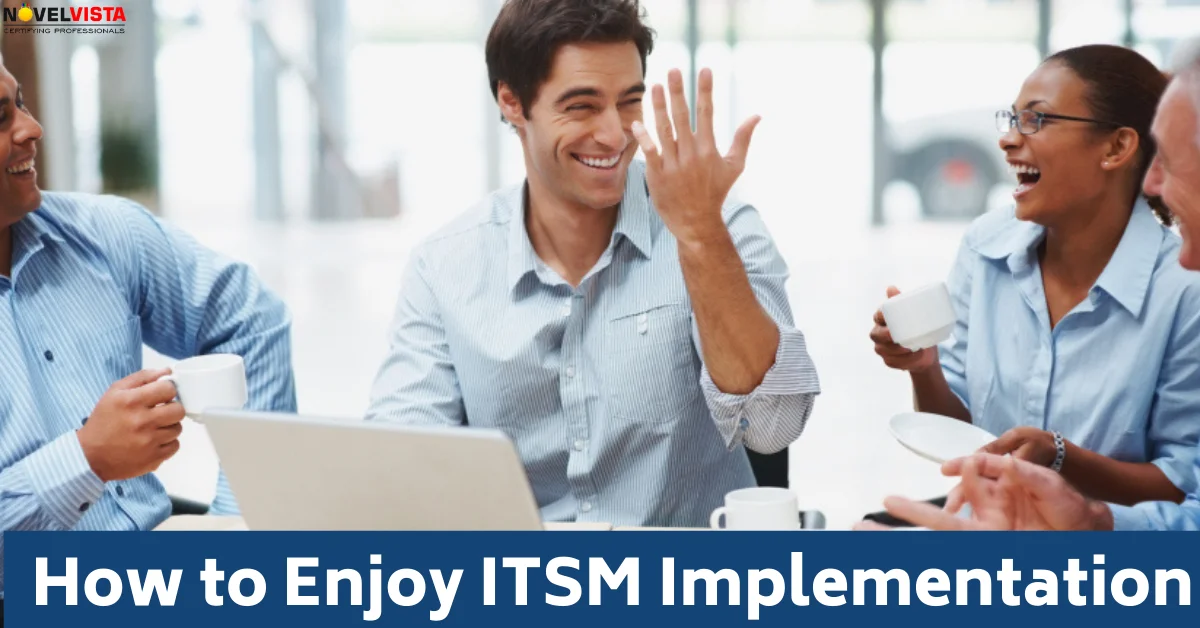 The comparison for having a great time in your ITSM execution to me is especially basic. You have to "plan".
"Plan". Truly, it's a decent four-letter word, yet the absence of planning is frequently a primary step of disappointment in an ITSM usage. Too often, ITSM usage looks something like this:
1." How about we do ITSM!"
Gather a group—as a rule people that aren't doing whatever else at that point

Get a few instruments and programming ("we're going to require them in any case")

"We should crush in some preparation"— so a couple of individuals disappear for three days and get a confirmation

"Alright, presently how about we design the device"

Turn the new instruments and programming out to an objective IT bunch alongside a couple of slides that discussion about how to utilize the device

Put out a few flames that came about because of misconfiguration in the device

Constrain other IT gatherings to utilize the device; after some time, disregard the ones that don't utilize the device

Following a couple of months, begin to ask why things aren't working so well OR (even better) proceed onward – rapidly—to the following venture
Possibly my representation above is somewhat extraordinary, however a large number of you perusing this may perceive these traits in your current (and maybe battling) ITSM execution. I will disclose to you that while an arrangement won't make ITSM usage a breeze, it will help smooth the way. However, neglect the basic advance of arranging and you'll be searching for that next venture (or work) sooner than you might suspect.
So how would you build up a decent ITSM plan? A Google search "on the most proficient method to design" will restore a great many outcomes, however, I think great ITSM arranging comes down to a basic equation: "Plan your work, at that point work your arrangement".
Plan your work:
Characterize clear objectives and targets for ITSM.

Guarantee the objectives and targets are adjusted to business vision, objectives and destinations

This helps put ITSM in a business setting and causes you to guard against "nerd talk". While you will probably (and should!) have a couple of specialized destinations of the ITSM execution, the better you can tie ITSM to business objectives and goals, they better ITSM will go.

Characterize the technique for accomplishing objectives and goals

"System" is frequently mistaken for and abused as "vision and objectives". These two terms don't mean anything very similar. "Technique" is the way to accomplish "vision and objectives", and gives the guide to arriving. Characterize and record your system.

Characterize and recognize jobs (counting the regularly ignored "support" job), capacities, assets, measures, and the time required for accomplishing the objectives and targets.
Work your Plan:
Execute your technique. Do what you said you would do.

Convey triumphs, just as misfortunes (you will have a few) and what you're doing to remediate those difficulties, on a standard, intermittent premise.

Keep your support locked in. You have to empower your support so she can thump down hindrances and help with unanticipated occasions to keep you on track.

Praise victories, regardless of whether that be the accomplishment of achievements, hitting those measures you characterized in your arrangement or the ID of new learnings.
Intermittently audit your arrangement and modify technique varying without dismissing the objective. Keep in mind, the "objective" is the objective. The "plan" is how you will arrive, not why you're doing it. Here and there people become so secured in running the arrangement that they neglect to see that they're going off base toward accomplishing objectives.
The best piece of making arrangements for us? Watching the arrangement work and accomplishing those objectives and destinations characterized inside the arrangement. How fun is that?
Topic Related Post
About Author
He is one of the first writers of our NovelVista blogs. During his years as a DevOps professional, he has achieved 5 certifications including ITIL4 Expert, DevOps Master, PRINCE2 Practitioner, PMP Certified, Lean Six Sigma Black Belt. Besides being an expert in DevOps & Automation Implementation, GAP Analysis, Automation Tools, Git, Docker, Jenkin, Process Definition, Implementation, Compliance, Quality Assurance, and Program Governance he has a keen interest in penning down his knowledge in an interesting way to keep the audiences glued.